Fresh Roast
Fresh Roast:
'Tis the season to enjoy a bag of toasty chestnuts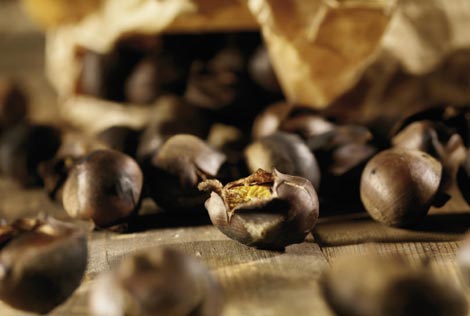 There are certain fixtures you expect to see in Asheville during the holiday season: wintry window displays, wreaths on lamp posts, and Sakshi Gantenbein selling roasted chestnuts, accompanied by his dog, Bello.
Each year, he roasts Italian chestnuts, which are in season from mid-October to mid-January, and sells them across town. As far as taste and texture go, the chestnut is a tough one to crack, according to Gantenbein. "It's almost like a sweet potato with a hint of pecan," he says.
He came to the trade in an unusual fashion. A jeweler by trade, Gantenbein returned home from traveling years ago to learn he was laid off from his job. "One day, I met a lion tamer selling chestnuts in my village," says the native of Basel, Switzerland. "He was trying to earn money to feed his lions during the winter when the circus isn't active, so I asked him to teach me. He did and I've been selling chestnuts for 26 years now."
What he loves most about the job is hearing stories from customers. "Some people tell me they got chestnuts in Paris on their honeymoon or they'll say they grew up with them in New York," Gantenbein says. "It's just wonderful to be out there listening to people."
Through January, you can catch Gantenbein at Greenlife Grocery, or at Biltmore Village during the Dickens Festival, December 3-5. Call (828) 299-7166 to find out where he'll be.
—Steven Hall