Fragile Stalwarts
Fragile Stalwarts:
A new glassblower at Penland is bringing ethereal emotions to her craft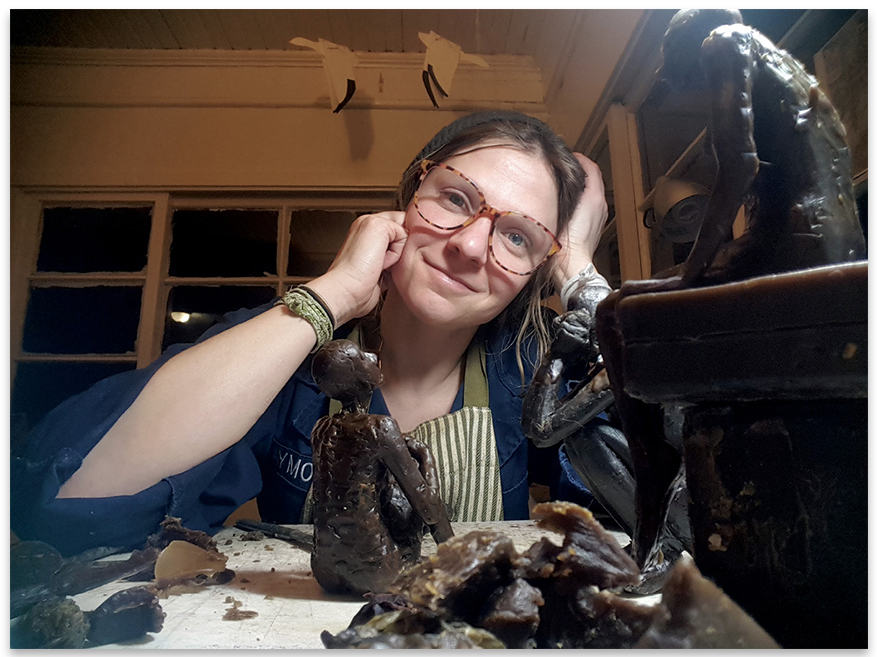 Up Close - Glassblower Sarah Vaughn loves spending time in her plant-filled studio at Penland.
Glass artist Sarah Vaughn, a recent addition to the artist-in-residence program at Penland School of Craft, is bringing a fresh, cathartic energy to the program's glass studio—or as blowers call it, the hot shop. Vaughn's two most recent projects include a glass-cast menagerie of imposter rock cairns in her ongoing collection entitled "Weather-Worn Memories," as well as personable, stunning flameworked glass figurines depicting emotions from Vaughn's past in "Reconstructed Memories."
Scattered Thoughts from "Reconstructed Memories"
Vaughn's interest in glasswork began as a girl. Growing up in a small town in southern Illinois, Vaughn would ride her bike across town to visit her grandfather and late grandmother's home, often exploring a decades-old collection of miscellanea around the house. "He'd let me go to the basement or the attic and I could pick one thing and I could take it home with me," Vaughn recounts. "I found this collection of glass bottles. Looking back, they were just Coke bottles, liquor bottles, perfume bottles—but I was mesmerized by them." Vaughn kept them on her windowsill, enamored by the mystery behind their creation. Eventually, Vaughn pursued her BFA at Southern Illinois University Carbondale and her MFA at the Rochester Institute of Technology; now an educated glassblower, she's traveled around the country working as an artist in varying capacities before settling in Penland for a three year residency program.
(Left to right) Stacked Standing on the Edge of What I Think I Know, an addition to "Reconstructed Memories," conveys a feeling of anxiety and fear alongside a height of knowledge; Looking Back and Waiting (II); & Studies from "Weather-Worn Memories."
For Vaughn, creating art is an emotionally meaningful experience. In order to create, shape, and mold the glass into its final form, glass casters must often undo, or even destroy, their first steps to achieve the correct shape. "You gotta let go of that past if you want to see if it can make it to that final stage," Vaughn explains. Finding catharsis in the crafting process, Vaughn's experiences also shape the themes of her work. Creating accessible art—works that viewers, no matter their background, can get something from—is her main goal. Vaughn recounts the feelings of anxiety and hopelessness poured into the flame worked glass figurine, Brimming Over Compensation ("Reconstructed Memories"). She recounts a conversation with a friend's young son in which he commented on the impossibility of the statue's task. "What I'm trying to do is take that [emotion] and give it visual context," explains Vaughn.
Looking ahead, Vaughn is planning to hunker down and utilize her newfound time and resources to work towards a larger project in the future. Currently, Vaughn's work is on display at the Momentum Gallery in Asheville and the Penland Gallery in Penland.
See the Work For more of Vaughn's work, visit sarahvaughnglass.com