Four Lanes to the Future
Four Lanes to the Future :
In an effort to make a large swath of Western North Carolina more accessible by road, Madison, Yancey, and Mitchell counties must deal with growth and consequences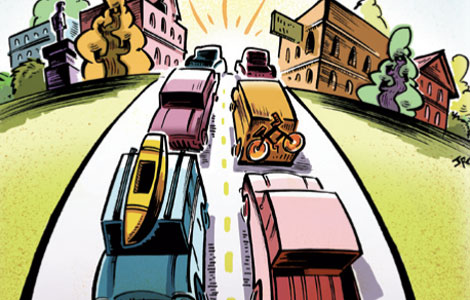 A drive along two-lane U.S. 19/19-E from future Interstate 26 eastward gives a glimpse of rural Western North Carolina: barns and cornfields, pastures dotted with cows and horses, small churches, country stores and car dealerships, abandoned mobile homes and ramshackle buildings, and colorful road names like Lick Skillet, Possum Trot, and Shake Rag. But ever since last fall, the corridor has seen the additions of bulldozers on ridges, cut trees stacked like toothpicks, mounds of dirt, orange and white traffic control barrels, and signs that warn "Road Work Ahead," and "Expect Delays." The bustle is the beginning of a multi-phase project underway by the North Carolina Department of Transportation, to widen U.S. 19/19-E to four lanes to handle increased traffic. Supporters of the plan believe it will boost business prospects and tourism and relieve congestion. Others are concerned about possible impacts on the area's rural lifestyle and scenic splendor. The main expectation for many residents, business people, and government officials after the landscape is leveled and paved and the work crews have packed up, is simply change. Whatever the transformation, the project's long history has included elements common to highway plans: lively public hearings, a $200 million budget, environmental concerns, relocation of homes and businesses, and the related lawsuits one might expect. Road to Prosperity Some people say the project is decades overdue given the economic boost it may provide to a region that has lost many manufacturing jobs. "This is one of the most important rural projects on the agenda right now—period—as far as the need for economic development for a large area goes," which includes Madison, Yancey, Mitchell, Avery, and Watauga counties, says State Rep. Phillip Frye of Spruce Pine who represents portions of the affected area. The U.S. 19 project is part of North Carolina's intrastate highway system program that began in the 1990s, intended to bring a four-lane road within 10 miles of every resident, Frye says. If the entire expansion is completed, the road will be widened from just outside Mars Hill east through Avery County, toward Boone. By making the region more accessible to truck traffic and making Interstates 26 and 40 more convenient to the counties involved, the new roadway "will be one of the most important corridors in Western North Carolina," Frye says. "We have to have good roads leading to these interstates before businesses will think of building manufacturing facilities." However, furniture, textiles and other manufacturers in the region have closed or downsized in the past decade, in some cases because of overseas competition. Madison, Mitchell, and Yancey collectively have lost thousands of jobs. Many residents in these counties must commute to work in Asheville, Marion, or elsewhere. The two-lane road makes it hard to recruit new industries, officials say. Yancey is one of the few North Carolina counties without a four-lane highway. "The community desperately needs this road for us to be a progressive county, and one that shows good viability," says David McIntosh, a Burnsville businessman and former member of the county's board of commissioners and economic development commission. The Greater Good Mitchell officials expect the improved highway to benefit their area even if the project doesn't get that far. "The greatest need in Mitchell County is infrastructure—roads, water, sewer," says Shirley Hise, county chamber of commerce director. "Any time we have an opportunity for improvement, we're very excited about it. We're excited about the widening of U.S. 19—we look forward to it—we encourage it, and the sooner the better." In Madison, the widened road might attract residential and business development around Mars Hill, county officials note. A better road could draw more day-trippers from Asheville to Burnsville and increase overnight visits if hotels and restaurants are built along the improved highway, David McIntosh says. Burnsville, Yancey's county seat with about 1,700 residents, is the biggest town the widened road will pass through, other than Boone. The road runs parallel to the town's contrasting upscale Main Street, lined with gift shops, galleries, and boutiques. McIntosh's lumberyard is among the businesses that may need to relocate for the new highway. To him, the project's importance trumps individual hardship. "It doesn't do any good to be mad. I'm into problem-solving. We're hoping that the positives will outweigh the negatives," he says. "As the plan exists now, we cannot operate as a building supply company anymore. We have to work that out with the state." Burnsville Mayor Danny McIntosh (no relation to David) doesn't know the fate of the trucking company he co-owns on U.S. 19-E just west of town. The widened highway will take part of the property, but he's not fighting. "My opinion is if the DOT engineers say we need a bigger road, we shouldn't stand in the way," the mayor says. The town isn't standing in the way or standing still. Downtown business owners are planning for the project. As a participant in the state's Small Town Main Street Program, Burnsville receives free consulting about parking, access, signage, and other issues to help attract business downtown. Some retailers worry that shoppers will bypass downtown during road construction, and even after the project is completed if the drive is faster to Boone and nearby ski areas. To prevent potential drive-bys, merchants say they plan more promotional efforts, with signs and possibly advertising outside North Carolina. "We're hoping the new road will bring more people into Burnsville. But if we don't let people know we're here, they're going to drive right by," says Lori Famularo, who owns I Thought About You boutique in downtown. "Objecting to growth is something we can't do, because it's coming whether we like it or not. We've got to make the best of it and hopefully turn it around to make it profitable." Don't Go Changing Other residents question how the region will profit from the bigger highway. To Bobbie Kuhl, a resident of Yancey's Bald Creek community west of Burnsville, the aim seems to be to build a road that will ease traffic for local commuters and allow tourists quick access to the ski resorts. Less dramatic solutions such as adding more turn lanes, adjusted traffic signals, public transportation, and passenger vans for the work force may have been sufficient to address congestion on U.S. 19-E during school openings and closings and morning work commutes, Kuhl suggests. Regarding tourism, "The people who want to come here seem to find it. I don't know that people coming here to spend a day mind the drive," she notes. "There are a lot of people who are very happy with the way things have been. Not everybody is looking at this change as an improvement." Others are concerned about the potential side-effects of rapid population growth brought on by the highway. "We don't need anymore development here," says Barbara Webster, another Bald Creek resident and a board member of the Yancey-Burnsville Chamber of Commerce. "Nobody wants to move to a place because it's so beautiful only to discover that the mountains are suddenly being turned into a patchwork of development with lights all over them. "I do want to develop tourism for Burnsville, and I want to create jobs in Burnsville by doing that," says Webster. "But I don't think widening the highway is necessarily the answer." Some Madison residents don't want their culture—focused on farming, traditional mountain music, and community ties—to get sacrificed in the process. "We're a little bit clannish, and we don't necessarily want to make the roads wider so more people can come in," county manager Steve Garrison says. "We don't want to be overwhelmed with such an influx of people that we lose part of our culture." Webster particularly fears losing a natural asset. If the new road brings development, she worries light pollution will make the starry night sky vanish. "People come here with their telescopes specifically to look at the dark sky," she says. "It's becoming really rare to be able to see the Milky Way. People don't realize what we're going to lose… I'm willing to work with whatever comes down the pike, but I also want to make sure we know what we're turning loose of." Other Routes Commercial development often occurs closer to larger roads, although it can be hard to know whether or not the improved highway is really what attracted the businesses. Improvements to about 14 miles of U.S. 441 in Macon County, from Franklin to the Georgia line, were completed in the mid-1990s. New businesses have appeared along the road, which was widened from two to five lanes. "I can't say I can point to any one thing that's happened because it was widened. Some of the retail stores and restaurants that have sprung up may have come here anyway," says Mark West, chairman of the Macon County Economic Development Commission. Despite the wider road, the number of manufacturing jobs in Macon has decreased in the last 15 years. "It's probably true that most manufacturers want to be on an interstate or at least have four-lane access to an interstate," West says. But "in the current economic situation, you can't rest assured something's going to happen even if you have four-lanes." After U.S. 441 was improved, some motels and other small businesses along the road survived. Others didn't. Faster traffic on the wider road and extra lanes to cross to make a turn may have discouraged some motorists from patronizing certain establishments, says Linda Harbuck, director of the Franklin Chamber of Commerce. Whether or not a larger highway signifies progress, Frye says a widened U.S. 19 may revive the region. "That's not to say we're not worried about the environment and not very concerned about keeping the mountains as we love them, pure and pristine," he notes. "It's that trade-off that we have to allow in order to keep us an active part of the economic development picture, not for business alone, for tourism as well." So as the heavy equipment cuts the path through the hillsides for this wider, flatter, straighter road across the upper counties, it's upon the citizens, business owners, politicians, and overall economy to determine how the highway will reshape the area it serves. Jess Clarke is a freelance writer and editor based in Asheville. She can be reached at jcpoet@bellsouth.net.
RESOURCES:
Illustrations by Jason Crosby