Forging the Way
Forging the Way:
William S. Rogers has shaped a successful career through blacksmithing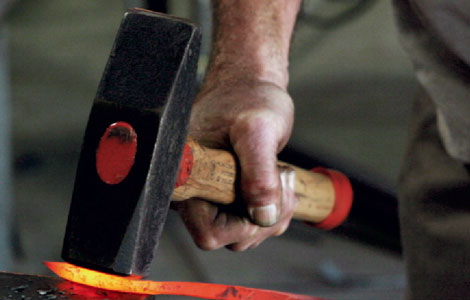 Inside William S. Rogers' spotless blacksmith shop hangs a sheet of steel the size of a blackboard. Clamped to a stud, it swallows almost an entire wall of the 500-square-foot workspace that sits in a thicket of mountain laurel next to his Cullowhee home.
This sketch board—where chalk-drawn designs jostle for attention with the material's mottled patina—is where Rogers' creations begin to take shape. Using life-size sketches on steel as a template, he uses a forge, a collection of handmade and vintage tools, and his knowledge of traditional and contemporary designs to forge copper, steel, and other metals into utilitarian sculptures ranging from chimney caps and end tables to one-of-a-kind candelabras and gates. "I use traditional techniques and tools to achieve a result that is aesthetically pleasing, lightweight, and durable," the 53-year-old says.
With 30 years of experience as an artist and teacher of blacksmithing, Rogers has crafted a formula that works. His designs can be curvy, architectural, unexpected. A lamp made with hammered copper, steel, and brass resembles a cresting wave. A set of door pulls presents sharp, lightning-like angles. Two serving tongs look like feathers, with black-as-coal spikes and curves. "I find a lot of inspiration in natural elements, from seeing how nature designs things," he explains.
Rogers learned his skill from his grandfather, who had a blacksmith shop in Tennessee. In 1979, he earned an art education degree from Middle Tennessee State University, but blacksmithing was his calling. He ran shops in his home state and Virginia, earning the "master craftsman" distinction before moving to Cullowhee three years ago.
There, he developed Jackson County Green Energy Park's blacksmithing studio, and now spends his time teaching and mentoring budding blacksmiths and creating his own work. "It is like pulling teeth to get me to sit down at my desk," William laughs. "I'd much rather be at my shop."