Foraged Ferments
Foraged Ferments:
Asheville's new artisan distillery, Eda Rhyne, blends old mountain ingredients with a taste for fresh flavors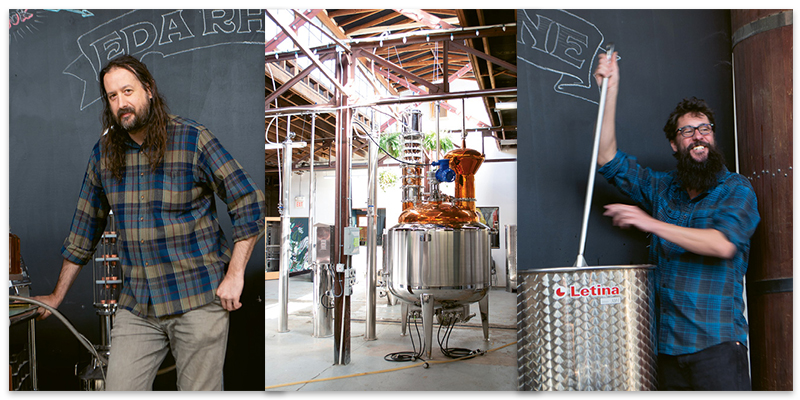 (left) co-owner Chris Bower; (right) co-owner Rett Murphy
Sometimes, the line between medicine and liquor runs mighty thin. For the proprietors of Eda Rhyne, a grassroots-driven distillery in Asheville, that's not only A-OK but also a fundamental part of the plan.
"Local terroir is the vision; we're using what is around us, what is laying on the ground all around us," says co-owner Chris Bower. "We're maintaining traditions that have been suppressed here. People were made to feel ashamed for folk remedies and practices at the same time they were celebrated and commercialized in Italy."
Bower says that that's why, in part, the company sources Eda Rhyne's beautiful bottles from Italy, while its three existing products (expect more soon) are inherently local but not without distant and deep charms. Inspired by Italian fernet, an herbal spirit served after meals to aid digestion, the Appalachian Fernet is laced with an aromatic mix of herbs from the mountains and spices from far away. The Amora Flora includes wildflowers and bark. And the Rustic Nocino is imbued with black walnuts gathered from the Yancey County farm of co-owner Rett Murphy.
An enterprise two years in the making, Eda Rhyne is nuzzled into a property next to Biltmore Village and feels like it landed in just the right place. "We couldn't have done this anywhere else," Murphy says. He and Bower, along with two other partners, have brewed a business on the unquenched thirst for mountain-based elixirs. "In Asheville," Murphy says, "we found that if we're making this quality of a product, we would have the support we needed." 
EDA RHYNE DISTILLING CO.
Tasting room open Wednesday-Saturday, 2-7 p.m.
101 Fairview Rd., Ste. A, Asheville
(828) 412-5441;
edarhyne.com
RESOURCES:
Photographs (3) by JOE BOLADO; (Drink) courtesy of Eda Rhyne