Foodie Fêtes
Foodie Fêtes:
Three spring festivals celebrate local cheese, beer, and bread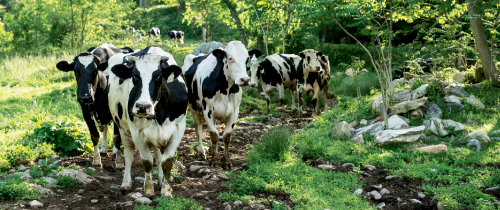 As one of the first foods children learn to love, cheese's endless variations offer years of potential exploration. Accordingly, a fromage festival is the ultimate family affair, says Katie Moore, event coordinator for the inaugural Carolina Mountain Cheese Fest, happening April 26 in Asheville. "Bring your kids and learn about how cheese is made," she says. "Learn about this industry that is right here in your backyard."
The event, taking place at Highland Brewing Company's indoor/outdoor space in east Asheville, includes vendors, tastings, workshops, farm animals, and dairy-inspired innovations—there's been talk of a bicycle-powered butter churn. Young connoisseurs will find entertainment aplenty, and their chaperones can partake in wine and beer pairings from Highland. Plus, renowned Vermont cheese maker Peter Dixon will speak.
The real strength of the festival is bringing specialists together, Moore explains: The cheese makers, bakers, and charcuteurs make their products throughout WNC, and for one afternoon, they will gather in one place. Many of them are part of the WNC Cheese Trail, a group of producers focused on attracting visitors to their farms and dairies, sparking tourist traffic and retail sales. "The festival is a one-day thing, but the cheese trail is here to stay," Moore says, "and it's a really important part of our economy.
Carolina Mountain Cheese Fest
April 26, noon-4 p.m.
$12, free 12 & younger
Highland Brewing Company
12 Old Charlotte Hwy., Asheville
www.mountaincheesefest.com
A Month of Beer
With the astounding growth of WNC's beer industry, it sometimes feels like every month is beer month. But April is officially N.C. Beer Month, offering a slate of statewide brewing events. Many of the region's smaller breweries will participate, so it's a great time to explore nearby and far-flung taprooms. Standout events include a trout-fishing tournament in Andrews, a beer "walkabout" in Blowing Rock, and the release of a seven-brewery collaboration beer in Sylva.
Visit www.ncbeermonth.com for more information
Asheville Bread Bash
Now in its 11th year, the Asheville Artisan Bread Bakers' Festival has grown to new proportions, attracting 15 regional bakers and several well-known bread makers from across the nation. Held in Asheville May 2 and 3. The main event takes place on the first day from 10 a.m. to 2 p.m. in the Magnolia Building at Asheville-Buncombe Technical Community College and includes workshops, sampling, and shopping. On the second day, an intensive six-hour baking class for professionals requires a ticket for entry.
Visit www.ashevillebreadfestival.com for more.