The Folk Way of Life
The Folk Way of Life:
Embodying the spirit of tradition, John C. Campbell Folk School invites students to engage their hands in craft, voices and instruments in song, and hearts in community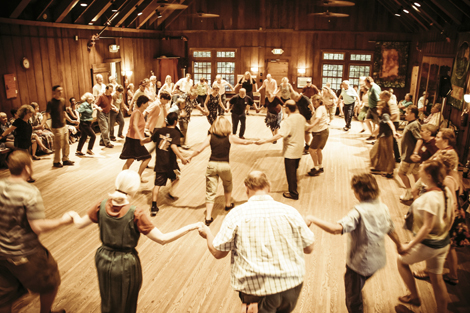 Deep in the rolling hills just past the crossroads at Brasstown, people from all over the country converge to set their hands and hearts to practicing traditional forms of craft. They learn to take the most basic of materials—planks of wood, clay, thread, straw, and steel—and transform them into objects both useful and beautiful: handwoven cloth and pottery, baskets and brooms, forged tools, even musical instruments. This is magic as it's practiced at John C. Campbell Folk School.
In the early decades, the students were people of the hills, coming to intertwine their livelihoods with the skills emblematic of simple mountain life, as envisioned by founder Olive Dame Campbell, who named the school for her husband.
Nearly 90 years later, a wider audience comes to connect with the old ways. They teach wood and wire to sing in the plaintive voice of the mountain dulcimer. They make steel soft as putty in the blacksmith shop, and with a hammer's blow, shape it into a delicate leaf or flower. They coax base dirt to rise up and serve our need for a hand-thrown cup or bowl.
At night, fireflies flicker over mowed pastures and vegetable gardens. The hoots of owls from the woods overlap with the distant lowing of cows. And the students sleep the sleep of the innocent, hands tired from practicing magic all day.