Folk Story
Folk Story:
For Lenoir artist Charlie Frye, community fuels the creative spirit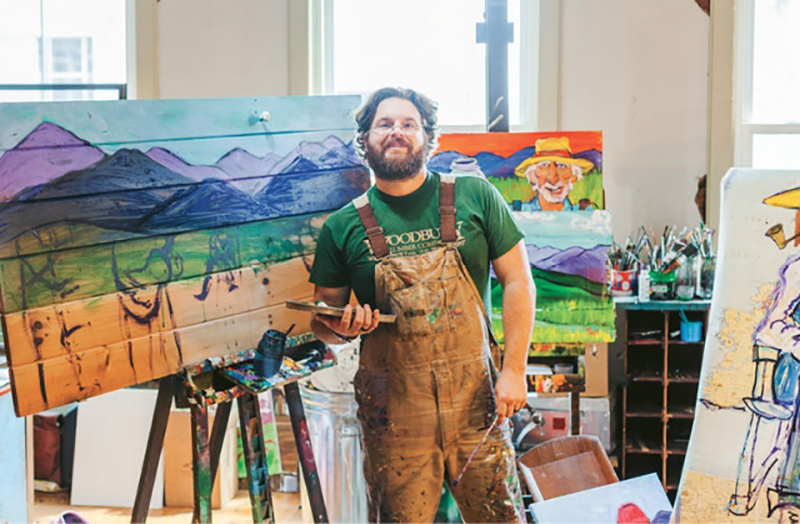 Charlie Frye is hard to miss. A tall, burly fellow with a full beard and ponytail, he walks the streets of downtown Lenoir with his purple owl coffee mug in hand, wearing acrylic-stained duck bib overalls. Cars honk and passengers wave as they drive by. Frye,  who is a self-trained folk artist and knows most everyone in town, cheerily calls out each driver's name, spilling some of his coffee as he waves back.
The city itself is lined with Frye's artwork; restaurants, cafés, and law offices all hang his bright, multi-layered acrylic paintings, black and white woodblock prints and ink drawings, or quirky found-object sculptures. His very truck, a '78 Ford F-150 named Minnie Pearl, doubles as a canvas, as well. On its tailgate, an owl painted orange, brown, and red looks out onto Lenoir's traffic.
Owls are a reoccurring figure in Frye's work. "They're so majestic and self-sufficient and free," he says. Beyond these winged creatures, the artist's repertoire also includes musicians, mountains, farm animals, and local townspeople—a colorful snapshot of rural Appalachia. "One of the joys of being a folk artist is that we get to be small-town—we get to be who we are," he says. "We do what we do, and that's what people like about it. It's just honest."
Frye's use of acrylic, his primary medium, further plays into his work's honesty. Part of the paint's appeal is that it dries faster than other mediums. In this way there is a degree of urgency in Frye's creations, which aids in the overall spontaneity of any given piece. For Frye, this element is crucial in capturing the emotion behind a painting.
Resourcefulness is another component of Frye's methods of creation. Throughout his studio, pizza pans and garbage lids function as palettes. Frye doesn't often employ the traditional canvas either, preferring found objects such as pots, pans, old crates, and barnwood. "I like harder surfaces," he says. "They allow me to use a different kind of pressure on the paint. I also like the uneven surface and what it brings to the piece."  
Despite the fact that Frye didn't take up art until he was 25, his work has caught the attention of galleries throughout the South. He's represented at noted southeastern folk art galleries, including 87 Ruffin Street in Linville, and participates in exhibits and folk art shows.
Yet for this fifth generation North Carolinian, family and hometown trump all else. "I love Lenoir and I love just being Charlie," he says. "I'm so grateful for the people here. We laugh and cry and live for this town and pull for everyone in it."
See for Yourself
Frye Art Studio
113 Main St., Lenoir
(828) 320-7819
www.fryeartstudio.com