Folk Lure
Folk Lure:
Three uniquely talented crafters begin residency at Olive's Porch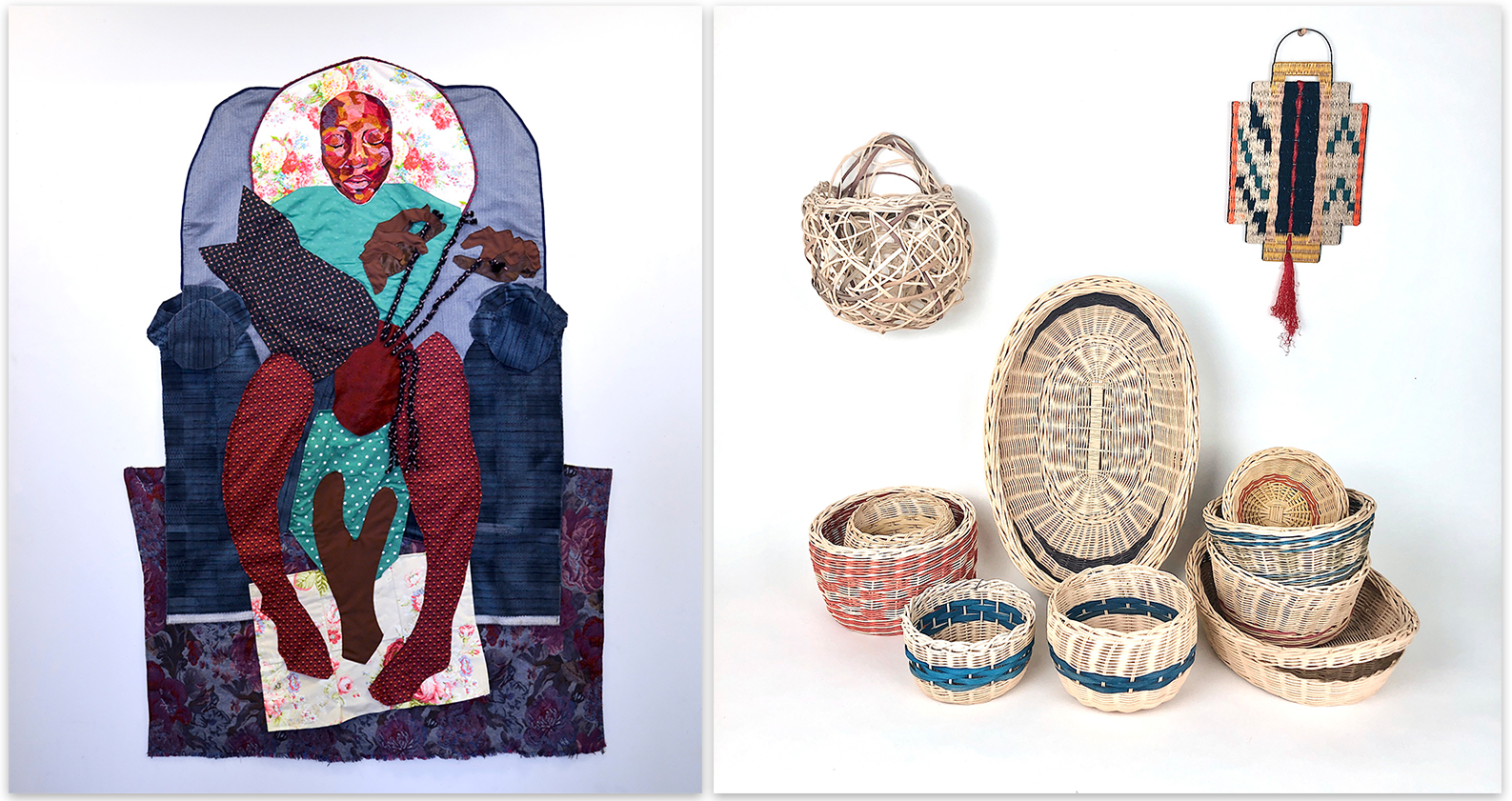 In Jasmine Best's abstract textile piece, "Saturday Night Ritual" (above left), a Black woman braids the hair of a young child; (Right) Baskets from Angela Eastman's Flag Mountain Studio.
The John C. Campbell Folk School and Olive's Porch have selected three craftspeople for their 2023 Artists in Residence program, which began in January. Chosen for their unique abilities, In addition to the folk school's 270-acre, picturesque pastoral campus in Brasstown, the craftspeople will utilize Olive's Porch in downtown Murphy, which features a learning space for community workshops, a retail shop showcasing the work of Appalachian artists, and a working studio dedicated to the Artist in Residence program, says Robert Grand, communication and brand manager. "It's all centered around providing new opportunities for folks to explore and celebrate Appalachian culture."
Originally from Buncombe County, Carly Owens Weiss is a beadwork and embroidery artist based in Boulder, Colorado. She graduated with a degree in art and design from N.C. State and studied crewelwork and goldwork hand embroidery at the Royal School of Needlework in the United Kingdom.
Carly Owens Weiss's work requires an attention to even the smallest detail, and a precise technique.
"I'm a mountain person," Weiss explains. "This was an opportunity to come back to a familiar environment and connect with craftspeople here. I'm also a fiber person…sewing and embroidery." The multidisciplinary artist uses hand embroidery to construct narratives using the displacement of everyday objects to explore identity through a personal and symbolic lens.

"My main focus is engaging with my work. I'll work in the studio eight to ten hours a day, sometimes. It's good, though, to get out of that and engage with the community."
The Artist in Residence program doesn't use a grading system or competition. "It's a school for the people, by the people," Grand says. Weiss appreciates that, noting, "It's a great thing to create without the pressures of life."
Jasmine Best will come aboard as the Artist in Residence in mid-May. This North Carolina-based artist uses her personal memories and manipulations of her memories to create dialogues about the Black female identity in the South.
Jasmine Best, a North Carolina artist, will come aboard as the Artist in Residence in mid-May.
She works with tangible and traditional mediums combined with digital means of art making. Her work often depicts maternal figures, each encapsulating the diversity and qualities that comprise the Black southern women in her life through several generations.
"I am really interested in what defines Southern visual art," Best says. "And to do this, I believe I need to better understand different parts of the South, especially how different parts of the South think of storytelling. I am so excited to hear what this community in Appalachia thinks about storytelling and see what is different and what is the same from my coastal Carolina upbringing…And I'd like to host a fiber art workshop while I'm there, so that there is an exchange of skills happening."
Angela Eastman is an artist and teacher living in Hillsborough. She'll be the Artist in Residence beginning in mid-September. She creates jewelry, baskets, furniture, and other homegoods through her design business, Flag Mountain Studio.
At Angela Eastman's company, Flag Mountain Studio, admirers can shop for handmade jewelry and view upcoming workshops hosted by the artist.
"I'm looking forward to participating in the holistic craft experience that the Folk School offers," the interdisciplinary artist explains. "I've always thrived best when surrounded by a wide range of creative pursuits, and I love that the Folk School encourages a spirit of craft and creative tradition in all corners of life.
"As a basket weaver focusing on foraged materials, I'll be looking to the woods for much of my material. I'm really looking forward to spending slow and intentional time exploring the beautiful mountains around Murphy this fall."
A Closer Look - To see more from these artists, visit olivesporch.org