From Flowers to Flour
From Flowers to Flour:
A new model of agribusiness launches in Marshall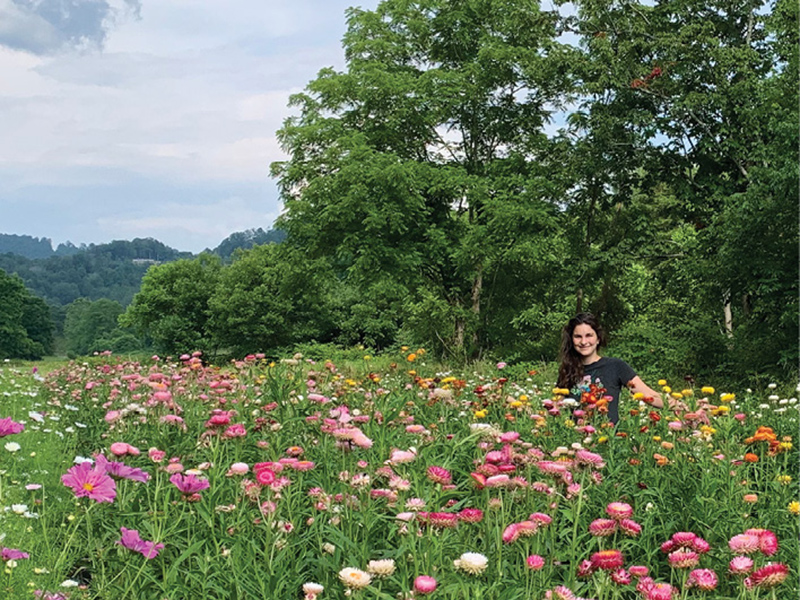 Emily Copus of Carolina Flowers and Zadie's
In March, when North Carolinians began sheltering in place, several Carolina Flowers customers remarked to owner Emily Copus that they wished they could get farm-fresh produce as easily as they could her locally grown blooms: with just the click of a button. Knowing many farmers had lost their restaurant outlets, and that she already had the necessary website infrastructure and logistics tools in place, she and her team listened to their patrons and began taking online orders and delivering local fruits and vegetables, cheeses, meats, and an array of other groceries from area farmers to doorsteps across the greater Asheville area out of her flower shop in Marshall.
This fall, the new venture, called Zadie's, is scheduled to open as its own retail store in the Old Marshall Jail, which Emily's husband, potter Josh Copus, and their partners have been painstakingly renovating for the past four years. The opening marks the first private use of the historic jail since its construction in 1905, and the first of several planned Zadie's locations.
In addition to housing the grocery, the spot is slated to include a small deli and restaurant/bar, so shoppers can gather and enjoy the restored community space. While the restaurant likely won't be fully operational until spring, deli items such as pimento cheese and crackers, bruschetta, and zucchini salad should be available sooner. You can also preorder groceries through the company's website for pickup from the convenient takeout window. Grocery delivery will remain a pillar offering.
Emily sees her flourishing enterprise as a new model of agribusiness. "As Zadie's grows, we want it to have its own farm, just as Carolina Flowers has its own farm," she says. "My hope is to create careers in farming and to create and nurture sustainable farms that support a local/regional food system. By cultivating the relationship between the products we grow and the consumers who shop for them, we're in the best business position to do that."
Zadie's Market
33 Baileys Branch, Marshall
zadiesmarket.com