Flour Power
Flour Power:
Artisan bread moves in an even fresher direction with wheat grown and milled in North Carolina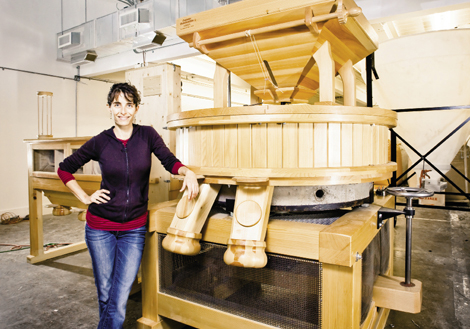 It's no secret that Western North Carolina has a love affair with the farm-to-table movement. Locally minded shoppers consistently seek out foods that have no recollection of a cross-country truck ride. But Jennifer Lapidus of the North Carolina Organic Bread Flour Project would like to introduce us to another local movement—the farmer, to miller, to baker connection.

For two and a half years, the project, an initiative of the Carolina Farm Stewardship Association, has been working to unite bakers into a buying collective for North Carolina-grown wheat, rather than the traditional Midwest supply.
This is when you ask yourself, "who grows wheat in this state?"
Actually, North Carolina farmers grow more wheat than any other state in the Southeast, but it's soft wheat—not the hard variety best for making bread flour—and the majority is not grown organically. Yet, thanks to the Uniform Bread Wheat Trails, a breeding program underway through the USDA's Agricultural Research Service in Raleigh, hard wheat varieties are being developed to withstand the Southeast's higher rainfall and humid conditions. With guidance from N.C. State University's Organic Grains Project, growers in the Carolinas completed the second year's harvest of bread wheat in June.
Until recently there was only one missing element: the mill. Enter the behemoth 6,000-pound, stone-burr Osttiroller gristmill from Tasmania, Australia. Not just any mill, this is "the Rolls Royce of mills," explains Lapidus. Housed adjacent to Annie's Bakery facility in Asheville, the mill began offering fresh-ground North Carolina flour to bakers in October.
Seven WNC bakeries are part of a pilot group testing the flour, and the results are expected hit stores in early November. So far, reviews of the flour have been favorable. The hope is that farmers will produce more and more wheat, decreasing bakers' dependence on sources outside the state. The tasty bonus is that the local flour will further distinguish artisan bread flavors, creating a North Carolina-specific taste, bringing local even closer to home.    
For more about the N.C. Organic Bread Flour Project, visit http://ncobfp.blogspot.com