Float On
Float On:
A passion for paddling propels Fletcher-based Liquidlogic Kayaks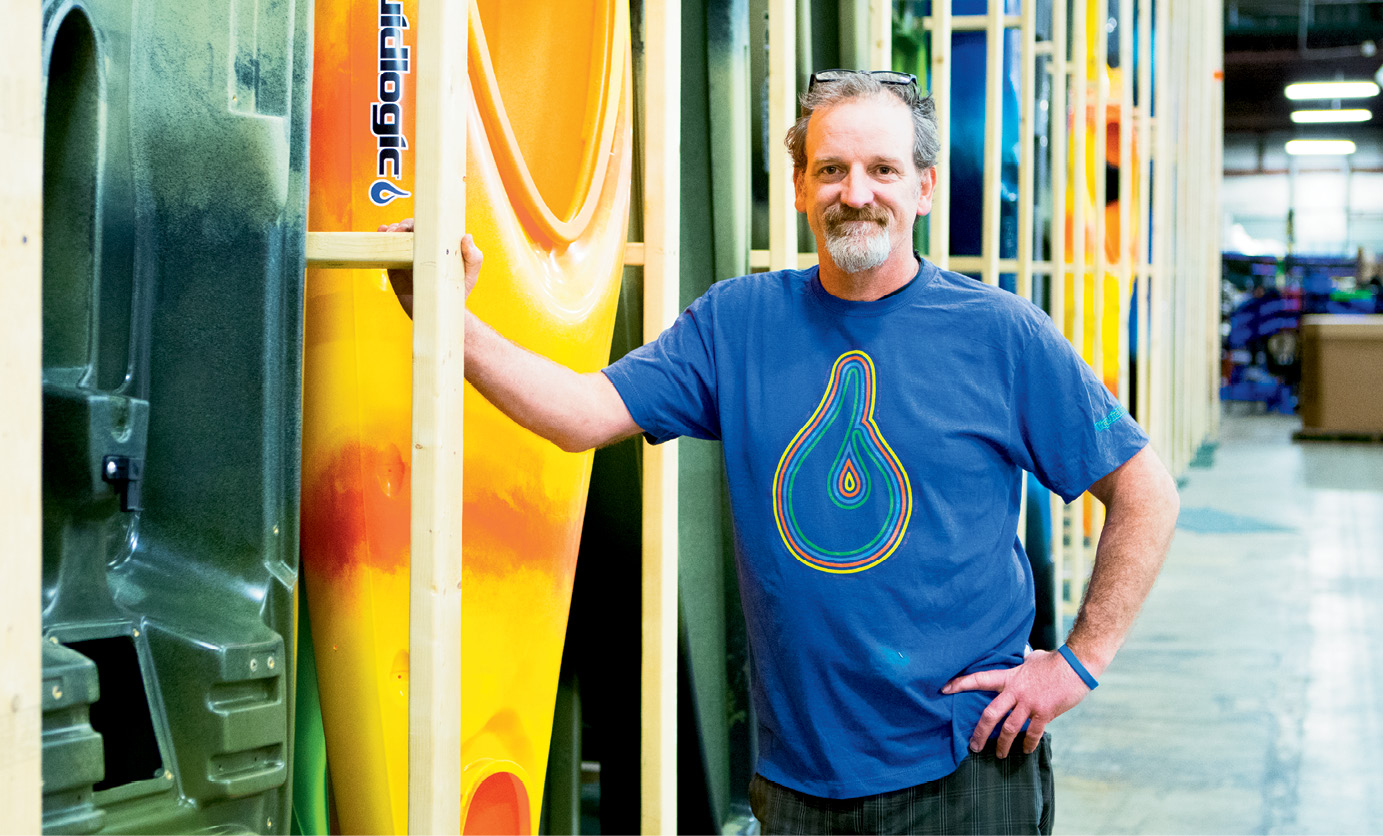 In the late 1990s, two of Shane Benedict's best friends died while white-water kayaking. From that moment forward Benedict's passion for designing kayaks took on a new significance. He wanted to make boats that would deliver when paddlers took on the most consequential runs. Benedict and a five-man crew of paddlers, designers, and artists quit coveted positions at Perception Kayaks in Greenville, South Carolina, and holed up in a cabin in the Green River Gorge, where they launched Liquidlogic in 2000.
"We wanted to do high-performance, high quality," Benedict says. "We wanted to make boats that we would paddle."
Today Liquidlogic occupies a hip and spacious warehouse in Fletcher, where 44 employees build 47 styles of immensely popular plastic watercraft, including white-water creek boats, fishing kayaks, sea kayaks, and stand-up paddleboards.
"We are literally baking boats," Benedict says as a giant oven with three mechanical arms lifts an aluminum boat mold.
While molding, sewing, and general assembly all take place on the main floor, it's deep in the belly of the warehouse where the mad scientists create. Before any kayaks slice the water, Benedict and two other shapers, Michael Bedoian and pro paddler Pat Keller, steal away to the "secret room" where they handcraft their masterpieces.
"To me, long, elegant lines mean the boat is going to paddle nice and smoothly," Benedict explains. "I am of an old-school lineage—I have an aesthetic, a throwback feel for longer boats." His love affair with kayaking began in 1980 at a summer camp in Highlands. While his peers launched their canoes, Benedict couldn't keep his eyes off the camp's all-but-forgotten fleet of kayaks. "Nobody knew how to use them," he recalls. "But I was a rebellious youth. It bit me bad."
Benedict ultimately helped develop the camp's first kayaking program, and in 1990 he accepted a position as an instructor and adventure guide with the Nantahala Outdoor Center. As a sponsored athlete and guide, he led paddling trips to New Zealand, Chile, and countless other big-water destinations.
When it came to starting a business, however, Benedict and the crew from Perception knew they were destined for Western North Carolina and its waterways. "We're kayakers," explains Woody Callaway, another one of the company's founders. "We wanted to be on the Green. We envisioned employees being able to go kayak."
Seventeen years have passed since Liquidlogic first hit the water, and now its an international operation, with distribution centers in Europe, Japan, New Zealand, and Russia. And the company still maintains a strong connection to its founders' favorite river. The company organizes annual cleanups of the Green River, facilitates public access, and supports American Whitewater, a river-access advocacy group. "It's our backyard, man," says Callaway. "We take care of it."
Liquidlogic Kayaks
(828) 771-9405
www.liquidlogickayaks.com