Flip for It
Flip for It:
Interior designer Leslie Huntley rehabs and relists an Asheville bungalow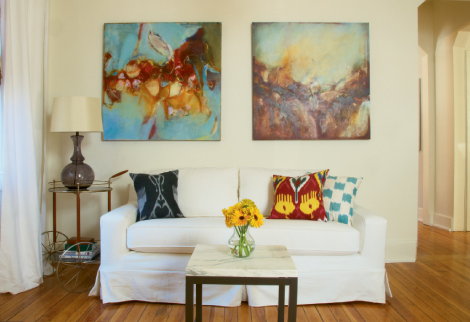 "Despite the fact that it looked disgusting, it was in pretty good shape fundamentally," Leslie Huntley says, seated in the light-filled living room of her bungalow in Asheville's historic Montford district.
Disgusting isn't a word that comes to mind as you tour the home Huntley just finished remodeling days earlier. The wood floors are polished, and the smell of fresh paint hangs in the air. The rooms of the 1,762-square-foot house are outfitted with stylish pairings of antique and contemporary furnishings, as well as pieces by local artists. It looks as though Huntley is settling in nicely, but the interior designer won't be calling this charming abode home. She bought the house as a portfolio project with the intent to resell it after the makeover.
In a housing market that could understandably make other potential home flippers shudder, Huntley jumped in, taking on her first remodel of an entire house. The owner of Roost Interior Design, she'd spent much of her professional design career working on kitchens.
She hadn't considered a large scale project until the home, just yards from the Asheville Civic Center and the rest of downtown, went on the market. "I've been walking my dogs by the house for years," she says. Because of the prized location and the rundown state of the place, it stood out as an investment. She got her first tour in August, and sealed the deal in October.
Beginning the rehab immediately, she drew design inspiration from Sarah Richardson, host of the Canadian HGTV show Sarah's House. The program chronicles the famous interior designer's flip projects, and like Richardson, Huntley intended to go beyond structural repairs and stage the home in an eclectic, elegant style.
Stained carpets were ripped out to unveil pine floors, and closed-in spaces were reconfigured to create breathable rooms. The two lower-level bedrooms were outfitted with new drywall. She replaced the weathered roof and added architectural interest by arching the boxy doorways throughout the main floor. For curb appeal, overgrown shrubbery was torn out to reveal the home's broad porch, now painted a watery blue.
Though a huge undertaking, it all seemed to fall in place. Knowing her limitations with power tools, Huntley turned to Priority 1 Construction, based in Black Mountain, for the heavy duty tasks. "It was a relatively seamless process," she says. "You hear rehab nightmare stories all the time, but I loved the people I worked with."
Along the way, she used the project to build a buzz around her business. A former English teacher, she started blogging about remodeling the house. The entries, often hilarious and tangential, divulged the process, including layout changes, tile and fixture selections, as well as weighing splurges versus budget-friendly choices. (Her most expensive purchase was the 1,300 pounds of tile; the least, a $5 chandelier she picked up at a neighborhood yard sale).
Huntley wasn't satisfied to concentrate solely on the fixes and remedies for the structure. She worked to give potential homeowners an idea of what it would be like to live there. Exploring antique and thrift stores for furnishings is when she had the most fun. "Can you tell I'm really excited about getting to the fluff?" Huntley wrote in her blog. "I mean plumbing, electrical and drywall is important and all, but let's start making it pretty for heavens' sake!"
In the living room, a shiny, Mad Men-ish bar cart came from Habitat for Humanity Home Store. The two cast-iron tubs in the bathrooms also came from Habitat, and she found a pedestal sink to match the home's original one at antique and architectural salvage store, Preservation Hall, in Weaverville.
She also raided her own home for furnishings. Antique marble-topped bedside tables, originally her grandmother's, sit next to a new metal contemporary bed destined to be Huntley's once the home sells. Her grandmother's silver pitchers hold bunches of wildflowers on the table in the kitchen and dining areas, which Huntley made one large space when she took down a wall.
"I knew that I was slightly crazy," Huntley laughs as she shows the house, which took four months to complete. But, for now, it seems like the work and investment will pay off. "Just seeing the before and after," she says, "and being able to pull it together and create a whole out of a mess, is very gratifying."