Flavor Saver
Flavor Saver:
A local writer serves up Asheville's culinary history in a special presentation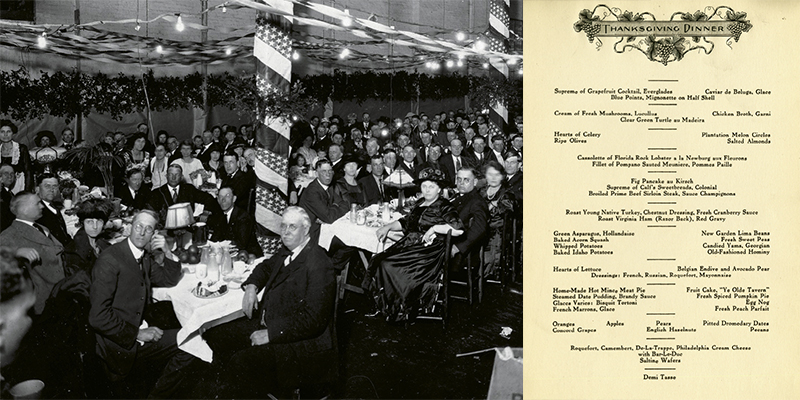 Above, a scene from the 1926 Asheville Fireman's Ball; right, the Grove Park Inn's elaborate 1938 Thanksgiving dinner menu
With more James Beard Foundation nods and top-notch restaurants per capita than perhaps any other city its size, Asheville has truly become a foodtopia—but that's not news to local writer Nan Chase. "Every magazine lists us as a huge food city, beer city, cider city," she notes. "People who are just living here recently, or are younger, might get the impression that this is a brand new thing, but it's not."
The city's deep background is familiar to Chase, a frequent WNC magazine contributor who penned Asheville: A History (McFarland, 2007), but tracing the area's rich culinary roots is a new passion for her. As a board member of the Friends of the North Carolina Room at Pack Library, Chase saw the organization's lecture series as an opportunity to share Asheville's epicurean ancestry with locals—and satisfy her own curiosity, to boot.
Chase's November 29 talk, "Asheville: 200 Years of Good Eating," will examine the region's culinary antiquities, gleaned from archives of old pictures and crinkled menus. From lavish, flapper-era banquets to the hearty meals of our early agriculturists, the photo-laden lecture will include intriguing morsels of yore. Many might be surprised, for example, by the Biltmore Estate's turn-of-the-century fare. "Everyday menus for dinner and lunch and even the holiday meals were simple, mostly country fare, like mac and cheese and turkey roast. Oftentimes it was just the [Vanderbilt] couple eating," explains Chase. Still, as she'll make clear in her talk, Asheville's early dining halls and verdant farms forged a recipe for success.
Asheville: 200 Years of Good Eating
A free presentation by Nan Chase, Wednesday, November 29, noon-1 p.m.
Pack Memorial Library's Lord Auditorium, 67 Haywood St., Asheville
RESOURCES:
Photographs courtesy of the North Carolina room at Pack Memorial Library