Flapjack Central
Flapjack Central:
Gatlinburg's host of pancake houses beckons ravenous locals and visitors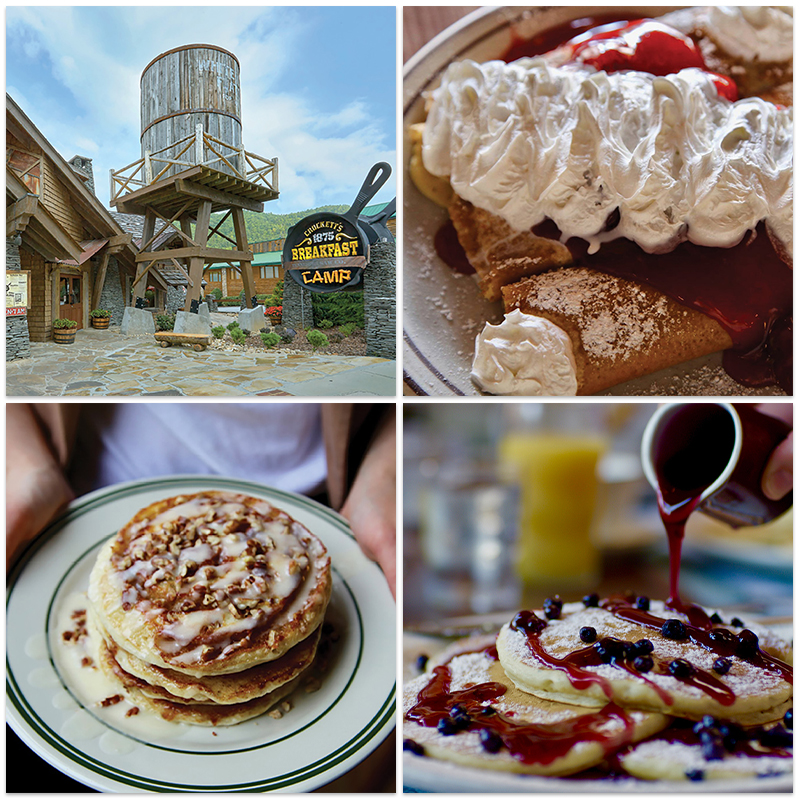 (Clockwise from top left) Crockett's Breakfast Camp; Log Cabin Pancake House; Pancake Pantry; & Flapjack's Pancake Cabin.
The 9,000-calorie breakfast is a real thing in Gatlinburg, Tennessee. Or at least it was a century ago, when the lumberjacks needed to fuel up for a day's work. Eggs, bacon, and most important, pancakes—or flapjacks—got those men started in their dangerous labors, and they could tuck a few extra in their pockets to take into the woods for a recharge. Those days are gone, and the forest has grown back into what is now the Great Smoky Mountains National Park. Luckily for visitors, a taste of those olden days lives on in a slew of wonderful pancake houses in Gatlinburg.
Crockett's Breakfast Camp
Designed with tourists in mind, Crockett's is adorned with logging artifacts and lore, including a stuffed wolf reclining on a massive fireplace mantel. The menu takes the form of a replica newspaper from 1886, so visitors can enjoy a history lesson as they wait for their orders. Serving sizes and selections are over-the-top and include gigantic frosted cinnamon rolls baked on site (plus an egg-dipped, pan-fried version), pot roast Benedict that starts with a cat head biscuit, and various skillet meals, including one with rainbow trout. crockettsbreakfastcamp.com
Log Cabin Pancake House
The log cabin itself is an impressive structure created at the time of the Bicentennial from antique poplar logs. The well-rounded menu includes all sorts of pancakes, crepes, and waffles: buckwheat, black walnut, apple, banana, cornmeal, chocolate chip or cherry, and many more. Pancakes are such a big deal that they come standard with most dishes; it costs extra to "hold the pancakes." logcabinpancakehouse.com
Pancake Pantry
Billed as the town's first modern pancake house, opened in 1960, the Pancake Pantry is tucked into a charming two-story chalet on the main drag. The focus at breakfast is on fruit-laden crepes and pancakes, with savory waffles into the mix. There's a sweet potato pancake, a smoked ham waffle, a red raspberry crepe, and a Swedish crepe with lingonberry butter, plus a few low-cal choices. pancakepantry.com
Little House of Pancakes
Plenty of restaurants advertise "breakfast all day." This special pancake house­—a favorite of local residents—serves "lunch for breakfast." Breakfast itself includes an astonishing two dozen Gatlinburg-style pancake or waffle combos with eggs. And then there's the meat: steak and eggs, pork chop and eggs, and country ham and eggs, in addition to a hearty "Panhandler" omelet. Here, the lunch menu that really matters. The country fried steak, served with rich gravy, is so tender you can cut it with a fork. And the slender corn cakes, or pones, are killer. So is the fried okra. Facebook: Little House of Pancakes
Flapjack's Pancake Cabin
This popular local chain has three Gatlinburg locations (plus three others nearby), so there's always room somewhere in the fanchise. Specialties are bacon and egg breakfasts, half a dozen different skillet fry-ups served with two pancakes, omelets with pancakes, and pancakes with fruit sauces and other additions. Diners can order many of the dishes in gluten-free versions, and there's a lower-impact waffle with a side of yogurt. Flapjack's can seat parties of 25—nice for family get-togethers and such. flapjacks.com