Find a Sweet Retreat in Blowing Rock
Find a Sweet Retreat in Blowing Rock:
Find great shopping, dining, and family-friendly skiing in the quaint village of Blowing Rock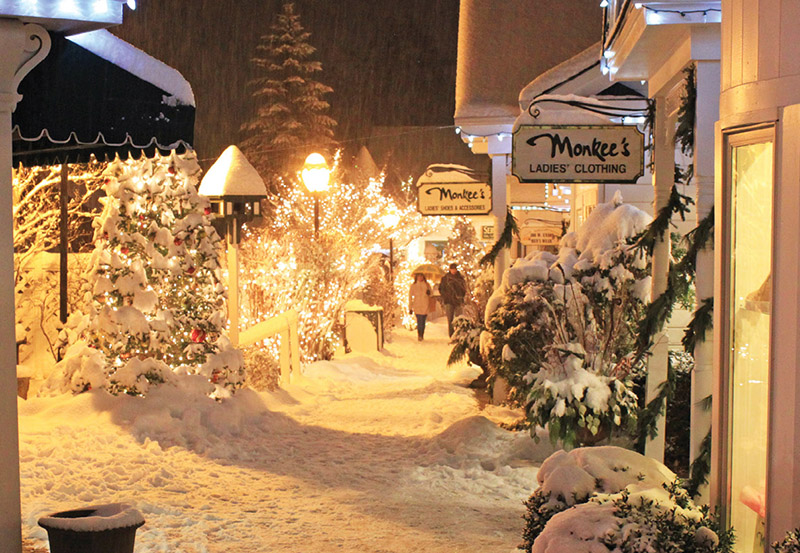 After a year like 2020, calling Blowing Rock a "Hallmark Channel" ski town would have a lot of folks making reservations. Even if that comparison seems a stretch, Blowing Rock's charming, walkable downtown, distinctly local lodging and dining, and plentiful boutiques will have even the skeptical bundling up to stroll through glittering lights that sparkle all season.
Residents really do refer to "the Rock" as a "village," and the town's slowest season is an ideal winter escape.
Blowing Rock's ski resort is Appalachian Ski Mountain—the state's second oldest. Minutes from town, with 365 feet of vertical drop and 12 slopes, the ski resort is buried by one of the most powerful snowmaking systems in the country, per acre. Deep, reliable snow reigns from November to late March, and this year, due to limited capacity, reservations are required. Families love the kid-friendly vibe and gentler terrain that's put to good use by the French-Swiss Ski College, the South's classic ski school. 
One of the nation's last ski areas to allow snowboarding, App is a hot spot, with three terrain parks, the state's only Burton Learn to Ride Center, and the chance to glimpse US Snowboard Team phenom Luke Winkelmann in action. The globally known snowboarder grew up riding at App and is sometimes seen on the mountain when he's home visiting.
App's lodge has homemade meals, a roaring fireplace, ski and gift shops, and a 6,000-square-foot hilltop ice skating arena, with views of the slopes and surrounding mountains.
Not a skier? Between standalone storefronts, clusters of shops, and a nearby outlet mall, Blowing Rock has much to offer shoppers in the way of upscale gifts, décor, fashion, outdoor gear, and art (don't miss Blowing Rock Art & History Museum).
The great outdoors still beckon. Twenty-five miles of carriage roads in the Blue Ridge Parkway's Moses Cone Park make wonderful easy walks or Nordic ski tours when there's snow (bring your skis). Other Parkway trails are close, or just take the Glen Burney Trail from downtown into a waterfall-filled chasm. Back at that trailhead, the cozy bar/eateries Six Pence Pub and Bistro Roca are just steps away.
Some of Blowing Rock's best restaurants and bars are inside inns and lodges. The bark-shingled Inn at Ragged Gardens features the enduring Best Cellar on the ground floor (with wine cellar seating below). Chetola Resort's historic home, the Manor House, includes Timberlake's Restaurant and eight themed B&B rooms dubbed Bob Timberlake Inn, all wonderfully atmospheric thanks to Timberlake's snowy artwork and furnishings.
The Chestnut Grille restaurant at the rambling grand dame Green Park Inn shares the lobby with the Divide Lounge, the High Country's oldest watering hole, atop the Eastern Continental Divide. Close by, near The Blowing Rock—the town's namesake rocky viewpoint (a wintertime must-see)—Gideon Ridge Inn is another historic home-turned-accommodation. It was originally built as Moses Cone's guesthouse and offers awesome food and views.
A Hallmark binge always includes events with small-town charm, and January's Winterfest is the region's real deal. Despite the pandemic, the seasonal celebration—which normally includes an ice sculpture competition, polar plunge, a grand tasting event, and more—is still set to take place January 28-31, albeit with limited capacity and minimal indoor activities. Regardless of when you visit, the town is a picture-perfect place to experience the cold season.
Plan Ahead
Find more on dining, staying, shopping, as well as COVID-19 updates and resources, at blowingrock.com.
Discover our Top 5 Winter Escapes