Featured Hike
Featured Hike:
Big Creek Trail, Great Smoky Mountains National Park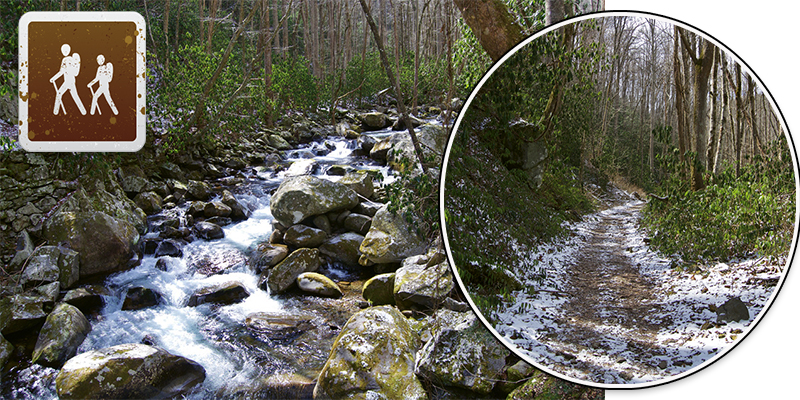 Distance: 4.2 (or 10) miles round-trip
Difficulty: Easy to moderate
Take away the leaves and erase the summertime layers of thick green undergrowth, and the bare beauty of Great Smoky Mountains National Park in winter is unveiled. Exposed are natural springs, granite boulders, leafless tree limbs, and the remains of former settlements typically hidden under dense vegetation. Though Big Creek Trail is a popular hike in warmer months, a winter outing on the eastern edge of the South's premier national park offers the possibility of greater solitude and the chance to capture photographs or delight in the sights of waterfalls and mountain pools—without all the people.
The path follows an obsolete rail grade through wooded slopes that were harvested by timber companies a century ago. The gently graded trail parallels a large creek dominated by impressive boulders surrounded by rushing water that creates swirling rapids and cascades. Midnight Hole, a popular swimming destination in the summer, is 1.4 miles from the trailhead. In another half mile, reach Mouse Creek Falls, a 45-foot cascade. While swimming may not be a winter option, below-freezing winter temperatures can form artful spectacles of sparkling icicles, frozen structures, and other scenes not witnessed in warmer months. Backtrack from Mouse Creek Falls for a 4.2-mile round-trip, or continue up the watershed to Walnut Bottoms at backcountry campsite #37 and back for a 10-miler.
Navigate: From I-40 in northern Haywood County, exit 451 on Waterville Road just west of the North Carolina-Tennessee state line. From the exit, cross the Pigeon River then turn left, following Waterville Road. Pass the National Park Service ranger station to a parking area at the end of the road roughly three miles from the interstate exit.