Farmhouse Fresh
Farmhouse Fresh :
A Morganton couple's vibrant revamp of a circa-1880s homestead reflects their love for interior design and craftsmanship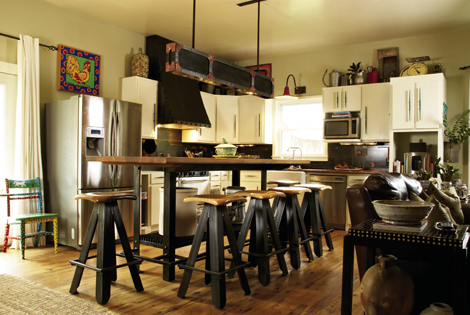 Rural western north carolina offers a lot to love: vast stretches of farm fields, round cows nibbling grass under bright skies, and winding country roads. Then there are the farmhouses. Some barely stand, weathered and worn, with their porches upheavals of rotten boards. Others are more like the spring crops that surround them, tended and cultivated.
Dean Curfman and Lynn Gardner's farmhouse outside Morganton is one of those well-loved homes, a crisp gray two-story on a hilltop overlooking acres of fields. Originally from Pennsylvania, Dean grew up on a farm much like this one. These days, he's less farmer than artistic blacksmith. His shop, Oak Hill Iron, stands behind the nearly 130-year-old farmhouse he and Lynn remodeled last year. "The house was in bad shape. The wiring had only been brought up to 1952 standards," Dean says, with a laugh. "The plumbing was terrible."
It was all to be expected of a home constructed in the 1880s. Frank Whisnant, the original owner, passed it and hundreds of acres down for generations, until the family decided to sell in 1986. Around the same time, Dean was in Pennsylvania contemplating a move. He pulled out an encyclopedia, thumbed through it, and picked Western North Carolina as his destination. He soon found the farmstead listed in a real estate magazine. It was the old house Dean had in mind: rough and tumble and full of potential. The interior walls had never been painted, the ceilings were unusually tall, there was just one bathroom, and it came with a collection of outbuildings—including a root cellar and smokehouse—scattered across 25 acres. Dean bought the property and moved in with his children and then wife, and the remodeling attempts began.
It wasn't until years later, when he met Lynn and the two became personal and professional partners, that the effort stuck. She spent 20 years working as a designer and merchandiser for the furniture industry in Hickory. First tries, including pink walls and blue linoleum, are now gone.
Today, the home is an imaginative blend of the couple's talents, filled with a quirky mix of industrial-inspired finishes, folk art, and warm colors and textiles. In the kitchen area, which is part of the great room, heavy iron-legged bar stools (as in 52 pounds each) topped with smooth-as-silk wood seats crafted by Roger Carter surround a large island. Above it hangs a hand-forged steel and copper light fixture by Dean. His craftsmanship is also highlighted in the copper sheeting stretched like fabric across kitchen countertops. A folk-art rocking chair by Winston-Salem artist Sam "The Dot Man" McMillan brings a splash of color. In the living area, baskets of stadium blankets rest near the foot of white linen and leather chairs. "You want a room to be a feast for your eyes," explains Dean.
The mixture creates a surprising and creative space. Dean's metalwork details, from the cabinet hardware in the kitchen to the half-circle bedside tables in the bedroom, blend with Lynn's layered textures, vibrant color selections, and interesting objects. In the living room, a box turtle shell tops a stack of books about chair design and Coco Chanel. Built-in bookshelves are filled with collected items and keepsakes, from face jug pottery to horseshoes. "When I design, I want it to be timeless," says Lynn.
The master bedroom, with thick cream carpet and mocha walls, is spacious and calming. Tall windows and 10-foot ceilings lend to the sense of roominess. So does the open steel shelving Dean designed to Lynn's specifications. She prefers this configuration's grab-and-go convenience to bureaus. "I don't want dresser drawers ever in my life," Lynn explains, "but this place has no closets."
When the remodel began, Lynn sketched space plans and Dean, his brother, and father tore down walls. The original back porch was transformed into a kitchen, and the great room's square footage swelled to allow for socializing and relaxing. A second bathroom sprouted on the first floor. When Lynn imagined a custom range hood, Dean made it. "It's sort of like playing football," Lynn says. "I'd pass the idea to him, and he'd run the ball to the goal."
All the work was done on a strict $30,000 budget. "We built this on a whim and a prayer," says Dean.
The couple stretched the budget by creatively incorporating recycled and salvaged materials. Water-stained sheets of steel, unusable by some standards, were turned into a striking backsplash with intricate, inlaid patterns. The wood flooring was salvaged. Old interior doors became a headboard in the master bedroom, and a friend gave them a set of old doors from a log house, which were hung above a set of twin beds in the guest room. The two also looked to resources on the property to fill in some of the gaps. They used wood from red oak trees to form the kitchen island top, which serves double duty as a cutting board. Other trees were used to create bathroom countertops and paneling.
Through the process, they also figured out probably the hardest thing for design lovers to master—when to stop. Upstairs, they left the walls in one of the two spacious guest bedrooms as they found them—unpainted, just as they were when the Whisnants lived in the home. The hand-planed yellow pine boards represent a stick-to-the-budget practicality, a love of the farmhouse's original bones and life, and a determination to personalize the century-old living space. "This house, 20 years from now," Lynn says, "is going to look as good as it does now, and that's due to thoughtful design."