Family Nest
Family Nest:
A mom with a knack for design creates a happy haven with eclectic flair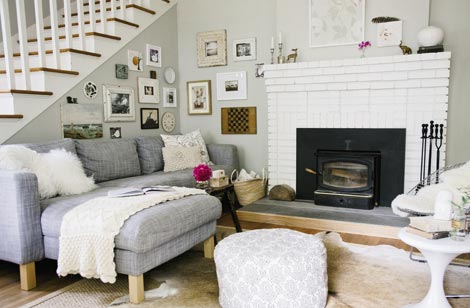 The surroundings change quickly at Maria Garuti and Bill Humphrey's 1918 bungalow in West Asheville. In no time, a fence constructed from recycled pallets could wrap itself around the yard, or a new coat of paint (just a hair lighter than the previous) can spruce up the exterior shingles. In the blink of an eye, a tufted headboard may be crafted, or a vintage find might be welcomed into the fold of modern and antique furnishings. In fact, before the couple and their son, Noah, met the neighbors, they were simply known as the "chore family," says Maria with a laugh.
That's what happens when Mom is an interior design blogger and Dad excels at DIY projects: Home becomes a canvas for creativity. Maria's site, Vintage Simple, began as a way to chronicle the kitchen and bath remodels of their previous home in Greenville, South Carolina. But as it evolved, it connected her with folks across the country who admired her aesthetic. Eventually, some readers became clients as they sought her advice on revamping their spaces.
As much as the couple enjoyed their lovely 1930s craftsman bungalow in Greenville—so lovely, in fact, that it made the pages of a Better Homes and Gardens' special edition—its 2,400 square feet felt oversized. "It was driving me crazy to have rooms that were seldom used," Maria says. "It seemed like such a waste."
She imagined a cozier floor plan that would help simplify their lifestyle. The hunt began in Greenville, but deep down, Maria hoped it would take them back to Asheville, where they'd lived five years earlier. She missed the artistic, laid-back atmosphere here. So when they found a  place with potential on the west side, they decided to go for it.
The house that became home hit the mark on space, with a playroom for Noah, a rising third-grader, and a shared office for Bill and Maria. It also had character. "I love the fact that old houses have nicks and aren't perfect; the floors aren't level, the windows aren't square," says Maria. "Old homes are a lot more interesting and forgiving, so your lifestyle can be more forgiving."
This particular house, just a quick stroll from the shops and restaurants on Haywood Road, also lent itself to Maria's creative vision, offering plenty of "chores" to tackle. One of the first projects involved freeing up space in the cabinet-clogged kitchen. They left just two sets of lower cupboards, which were painted black and spiffed up with brass drawer pulls. Maria refurbished a discarded vintage hutch that now hangs above the stove. In the adjacent hall, a salvaged door of English pine from Oldfellows Antiques (one of her favorite haunts) was installed barn style for the first floor bathroom. "Giving things a second chance has always been a part of my design process," Maria says.
 Her love for Scandinavian design comes through in the mingling of contemporary and vintage touches, such as the modern lines of scoop-back chairs from West Elm encircling the rustic farm table in the dining room. The choices of pale tones and soft textures of a cowhide rug and sheepskin throw give the living room an ethereal glow and coziness. "The light is different in the far northern countries. There's something quite magical about it," says Maria. "I try to recreate it even though I live in a very different latitude."
In the office, the telltale signs of a design fan are evident—samples of fabric and a favorite wallpaper pinned up, carpet squares waiting to be selected for the ideal space, and tall stacks of home décor magazines and books. Maria still lends her style notes with consultations, though her recent focus has been on her own nest.
Here, the design goal that surpasses all others is building a calming sanctuary for the family. "Home, for me, needs to be a soothing place where I can unplug," she explains.  
Subtle touches throughout the house mark the space as a nurturing place. For instance, a decal on a chalkboard wall outside the playroom reads "You are loved." A poster hung above the stairs shares a happy message each morning: "hi. i am in love with you. ok." It's easy to see her affinity for design is being passed down to Noah, who recently created a floor plan with paper bricks, complete with wooden block beds for the action figures wandering the rooms. "What can I say? He's his mother's boy," Maria says with a smile.
*Editor's Note: The original article included incorrect square footage for the couple's home in Greenville. We apologize for the error.