Family First
Family First:
The Woodys make sweet music together at Asheville's only venue that blends live tunes and fine dining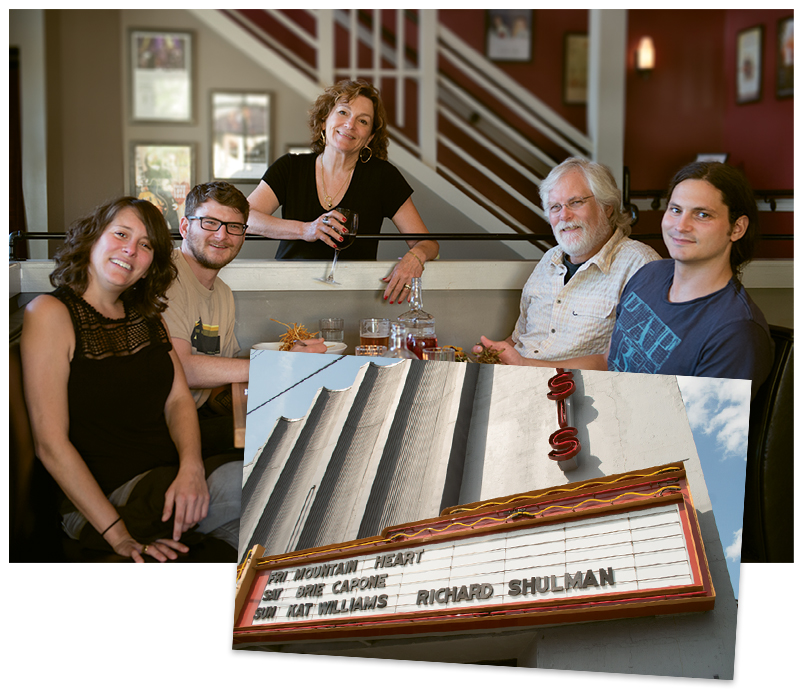 The Woody family, from left, Josephine, Martin, Lilliana, Scott, and Harris
Whether it's dancing to Motown favorites from a local band or dinner and a nationally-known showcase, the family-run Isis Music Hall and Kitchen 743 has been a unique fixture on the Asheville music and entertainment scene since 2012.
That's not just by local standards. Just three years after opening, Isis was awarded a Venue of the Year Momentum Award by the International Bluegrass Music Association.
Named after the Egyptian goddess, Isis, the original structure was built in the mid 1930s as a state-of-the-art movie theater and has endured many incarnations since the cinema's closing in 1957. The Woody family purchased the Haywood Road art deco building in the late 1990s. Patriarch Scott Woody, an Atlanta veterinarian with a 30-year clinical practice, moved to Asheville to restore the building with wife Lilliana, daughter Josephine, and sons Harris and Martin. A musician himself, Scott saw the possibilities of a sophisticated music hall/bar/restaurant on the burgeoning main corridor of West Asheville.
For the family, it's a larger, glossier version of the jam sessions the Woodys hosted for Scott's musician friends when the kids were young; they grew up in a convivial atmosphere of music, food, and drink.
"It's been an evolutionary process," says Scott of the family roles in the business. "At first everyone was doing a bit of everything, but we've spent time defining roles, and it's fallen more naturally into place according to our interests." They've had practice working together since the vet clinic days, when the children would help in the kennels. Harris now runs the restaurant as general manager, and Martin assists. Lilliana works on the books, and Scott and Josephine handle the show bookings and social media.
Isis hosts local and national acts, including Carte Blanche
Managing a music hall and restaurant requires all hands on deck, in part because Isis's dinner-and-show component allows the dining area to double in size. Guests dine stageside on fare including burgers, crab cakes, mussels, and curried apple-bourbon chicken. The restaurant is in full swing before and during shows, and two bars allow libations to be served late.
It's a difficult business model, admits Scott, noting that both the menu and entertainment must cater to a variety of ages and tastes. Most younger concertgoers want to stand and have drinks or a quick bite at the bar, whereas older crowds prefer to sit during concerts and enjoy a leisurely meal.
Thanks to the Woodys, the latest incarnation of Isis is arguably its greatest. And while it's no longer the family living room, they've carried over that same welcoming spirit into this happy gathering place of food, music, and fun.
Isis Music Hall & Kitchen 743
743 Haywood Rd., Asheville
(828) 575-2737
isisasheville.com
RESOURCES:
Photographs (family) courtesy of Lynne Harty photography; (Isis) by Joe Bolado; (food and carte blanche) by Scott Woody