Fall Colors at Carlton
Fall Colors at Carlton:
High Country gallery shines in autumn group exhibition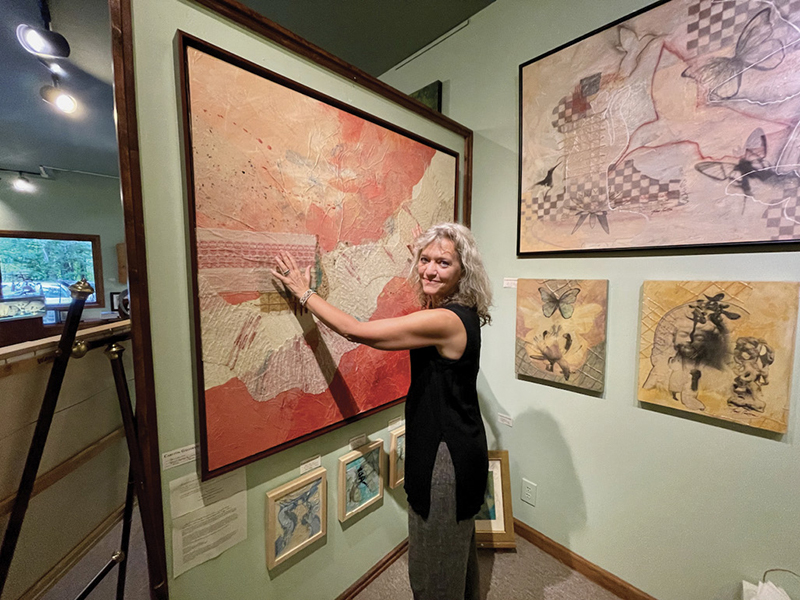 Toni Carlton
Carlton Gallery, the popular art venue and studio south of Boone, will mark 40 years in 2022, and its fall group exhibition promises reminders of why there will be much to celebrate. A Changing Season of Colorful Art and Culture features an eclectic and vibrant mix of traditional and contemporary fine art, curated from nearly 50 artists of local, regional, and national renown.
High Country native and owner Toni Carlton started the gallery as a weaving studio after graduating from Appalachian State University with a double major in art and industrial arts. Her own weaving and a fascination with fiber art fueled the gallery until it was supplemented by paintings from her mentor, the noted artist and influential ASU art professor Warren Dennis. That started an expansion that has made the gallery one of the region's most diverse and impressive collections of original art, from painting, fiber art, pottery, and glass, to woodworking, sculpture, jewelry, clothing, and more. After nearly four decades, Carlton Gallery is a landmark High Country art venue that's become a popular seasonal stop for locals and visitors. "I have grandchildren of longtime customers coming in now," Carlton says.
The fall exhibition, which opens October 9, will showcase the most colorful season. Highlights will include new sculptures by Mary-Ann Prack, Tanya Bottomley's abstract paintings, and handblown glass by several noted artists. "And we always have plenty of landscapes," Carlton says, "but we'll have more than usual given the wonderful selection of mountain colors in the fall."
A Changing Season of Colorful Art & Sculpture
October 9-November 15
Carlton Gallery
10360 Hwy. 105 S., Banner Elk
(828) 963-4288
carltongallery.com