Experiential Education
Experiential Education:
Parks & Rec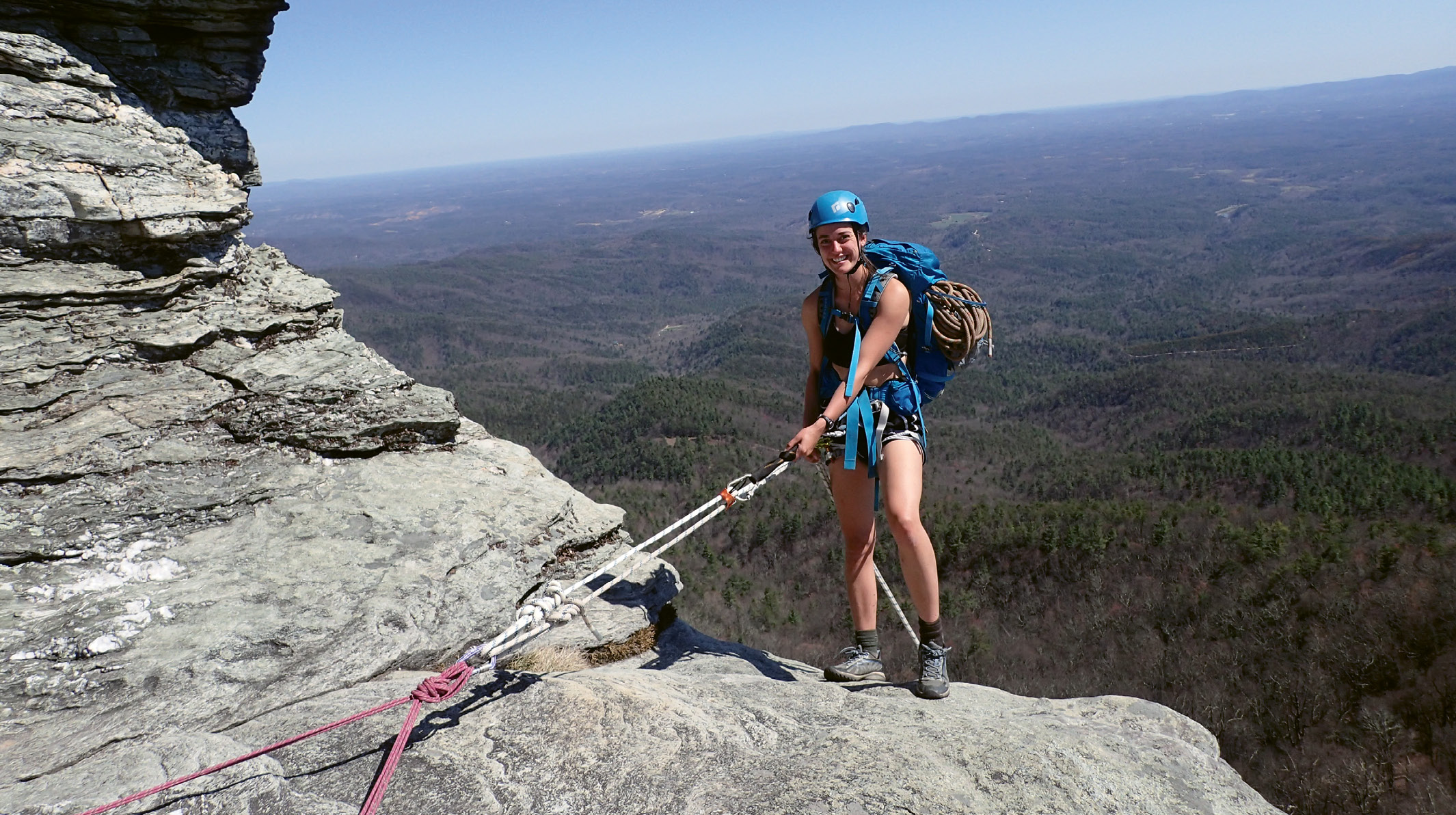 As part of her Wilderness Leadership and Experiential Education course work, Katie King learned advanced rock climbing in the Linville Gorge.
Experiencing the Wilderness - Brevard College
Jennifer Kafsky, director of Brevard College's Wilderness Leadership and Experiential Education program, says it is one of the most distinctive in the nation because of its special focus on helping students become effective and ethical leaders. Of course, teaching leadership isn't so easy with a chalkboard. That's why future grads are required to complete a 21-day wilderness expedition in their Immersion Semester. That gives students a strong base for handling tricky situations with future students and clients, and it prepares them for careers in wilderness therapy, experiential education, and public park operations.
Opening the Outdoors to All - Appalachian State University
Whether an English major or experiential education major, all ASU students are welcome to sign up for one of the adventure trips led by the university's Outdoor Program. Not only can they explore the peaks and coves of Appalachia, but over the last decade the program has taken students on 25 international trips to countries including Canada, Peru, and New Zealand. While some student trip leaders are acquiring valuable skills for careers in outdoor recreation, non-majors participating in paddling, backpacking, or climbing also gain worthwhile life experience. "Students are living with a small group of people and are unplugged while traveling in some pretty wild and wonderful places," explains associate director Rich Campbell. "The support we provide in challenging situations is what provides growth as students and young adults."
Finding the Classroom in the Forest - Haywood Community College
Sorting out the difference between a red oak and white oak is just one of the skills best learned in the woods. Located in Waynesville and at the doorstep of tens of thousands of acres of public and private forests, Haywood's Forest Management Technology program emphasizes hands-on learning, using the campus and several teaching forests as outdoor labs to give students skills in identifying trees, measuring stands, fighting fires, and surveying. The only two-year degree program in North Carolina recognized by the Society of American Foresters, it attracts students from throughout the state and region.
Making the Most of Our Great Outdoors - Western Carolina University
You'll be hard pressed to find a better place to base a parks and recreation management program than Cullowhee. This campus' backyard encompasses thousands of acres of public land and world-class outdoor recreational resources. Associate Professor of Parks and Recreation Management Andrew Bobilya says that among the assets of their curriculum are several decades of relationship-building with public land managers and community recreation programs throughout the region. For students, a degree prerequisite is completion of four internships amounting to over 500 hours of hands-on field experience. "Students are not only getting behind-the-scenes experience," Bobilya notes, "but they also broaden their professional network."
On a trail that runs through Lees-McRae's campus, Outdoor Rec Assistant Professor Katie Wall (kneeling right) works with students practicing map and compass triangulation.
Taking the Lead - UNC Asheville
UNCA's Outdoor Leadership Training Program is a unique development curriculum. A year-long program, the collection of courses serves as a pathway for those who aim to become outdoor trip leaders themselves. From September to April, students participate in team-building events, classroom lectures, and meetings to prep them for leading trips, says OLTP staff member Leah Belt. In addition to instruction in backcountry cooking, the basics of group dynamics, and low-impact camping, students also take on leadership roles. "Being a leader pushes them out of their comfort zones," says Belt. "That allows them to become more confident in the classroom.
Taking Care of Outdoors Business - Lees-McRae College
Building budgets, developing marketing strategies, and evaluating balance sheets are all in a day's work for Outdoor Recreation Management majors at Lees-McRae. Assistant professor Katie Wall says it's the only outdoor rec program in the nation that combines a hands-on business education with skills for careers in the outdoors. "It gives our students another avenue in the outdoor industry," she says. While students are immersed in gaining technical outdoor skills and learning experiential pedagogy, they're also equipped with the know-how to start or manage an enterprise, whether it's a bike shop or an outdoor program.
RESOURCES:
Photograph by Clyde Carter; Photographs (Stand-up Paddleboarding) courtesy of Western Carolina University; (mapping skills students) by Mike Belleme