Equal Opportunity
Equal Opportunity:
The rehabilitated Mars Hill Anderson Rosenwald School is revived as a beacon of Black history in America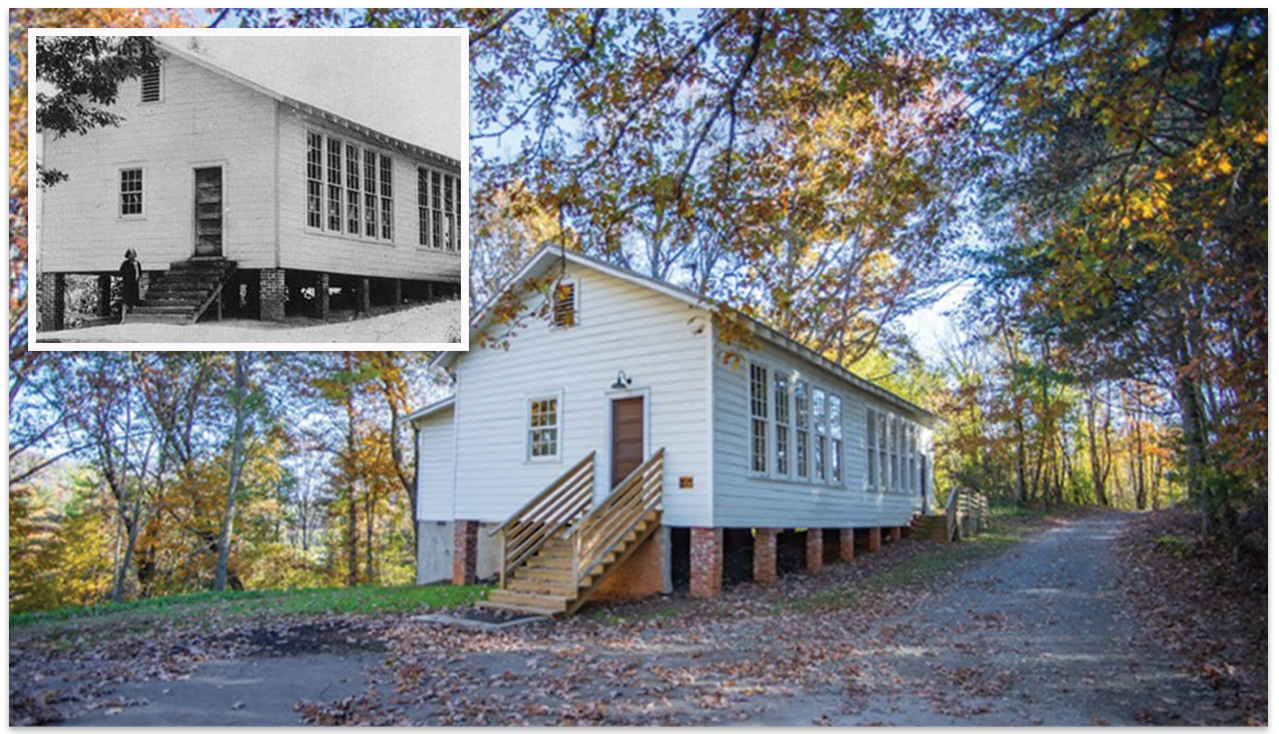 Down a scenic mountain road in rural Madison County sits an important and recently rehabilitated vestige of early 20th-century Black education in America. 
Education in Action - Students of the Rosenwald School raise their hands during a classroom activity.
The Mars Hill Anderson Rosenwald School was built in 1928 as part of an initiative by former slave-turned-educator Booker T. Washington and philanthropist Julius Rosenwald, president of Sears Roebuck and Co. Their efforts helped fund the creation of around 5,800 schools for Black children throughout the rural South between 1917 and 1932; about 850 were in North Carolina, the most of any state. This was at a time, during the Jim Crow-era South, when public schools for Black children were granted very little funding and resources and few even existed in rural areas. For about four decades until desegregation, Rosenwald Schools provided more than 700,000 Black children an educational advantage, offering students a promising path forward, while the architectural conformity of the buildings was a tangible representation of equality. Anywhere one was built, the community was required to contribute one-third of the costs, which helped to build support, investment, and pride among thousands of Black communities.
Today, only around 500 Rosenwald Schools still exist and the two-room schoolhouse in Mars Hill is the only one in Western North Carolina. That's thanks to a 13-year effort by a group known as The Friends of the Mars Hill Anderson Rosenwald School, which, according to Friends Chair Willa Wyatt, has raised over $245,000, accumulated over $500,000-worth of volunteer hours, and partnered with local, state, and federal organizations to rehabilitate the school, which was falling in when the group formed in 2009. The Friends worked with historians, alumni, and restoration specialists to uncover the school's history and to preserve the building and place it on the National Register of Historic Places. They'll be publishing a book this fall about the school's history, though its future as an educational resource also warrants applause.
(Left to right) Booker T. Washington; Julius Rosenwald.
Pending final inspections, the school is expected to open as an interpretive museum and cultural center later this summer and hopes to be awarded a Civil Rights Trail Marker this fall. It contains a replica classroom, photos and memorabilia about the school and Rosenwald legacy, and is outfitted with a Smart Board, high-speed Internet, and laptops for hosting on-site learning and programming. "It's wired for every bell and whistle that you'd find in a modern-day classroom," says Wyatt. "The sky's the limit as to what can take place here." With worldwide connectivity and curriculum development in the works, the school offers an immersive environment for people near and far to learn and grow from the past.
MARS HILL ANDERSON ROSENWALD SCHOOL
225 Mount Olive Drive, Mars Hill
andersonrosenwaldschool.com