Engine of Change
Engine of Change:
Before its reinvention as an amusement park ride, Tweetsie Railroad transformed Boone from an isolated mountain hamlet into a boomtown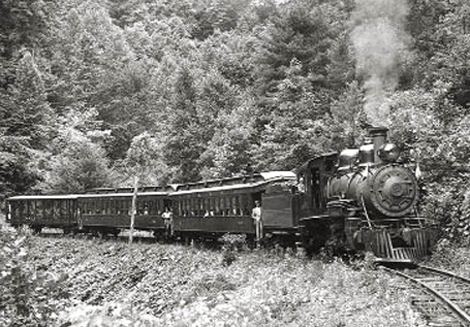 Coal cinders fly, steam erupts, and a whistle blows as Engine #12 lurches forward, pulling railcars full of passengers prepared to meet cowboys and bandits aboard Tweetsie Railroad.
The rides, shows, and Wild West fanfare are part of the fun at this Blowing Rock amusement park, but what's momentous about Tweetsie is the locomotive's historic impact on Boone.
The East Tennessee & Western North Carolina Railroad (ET&WNC) operated between Johnson City and Boone from 1918 to 1940. Tweetsie, affectionately named for its shrill whistle, was magical, making elevation changes of more than 1,800 feet, transporting passengers, mail, and goods in hours rather than days, and thrilling riders along the highest elevation railroad in the Eastern United States. But more importantly, the train carried Boone and the High Country into the 20th century.
Surrounded by steep mountains on three sides, Boone's only connections to the outside world were two roads that accommodated horse-drawn wagons—one south toward Blowing Rock and another east to Wilkesboro. Although the town was the seat of Watauga County, it, Ashe, and Alleghany counties were considered so isolated they earned the moniker "The Lost Province."
The ET&WNC was built in the late 19th century to transport iron ore from Cranberry, west of Boone in Avery County, to Johnson City. It was an engineering and construction marvel. Mules had to be lowered in slings 1,100 feet into the Doe River Gorge in Tennessee to help with the work. ET&WNC later expanded the line with the purchase of the Linville River Railroad, connecting Cranberry to the rich logging area of Linville. And by 1916, yet another extension was created from Linville to Shulls Mills, a logging center just outside of Boone.
The rail line fell a mere eight miles short of reaching Boone, so the town petitioned ET&WNC to extend it. The company agreed to do so if residents voted for a $27,000 bond to offset the projected $130,000 construction cost. Within a month of the bond passing, more than 200 men set to work. A construction train arrived on October 24, 1918, and freight and postal service soon followed.
Official passenger service began the following May, and was kicked off with a great celebration. Banner Elk Mayor H.G. Shull's telling words have become a common refrain: "I remember when the only way for a person to get to Boone was to be born there."
The 66 miles of track from Johnson City to Boone was narrow gauge (36-inch rail width), used because it was cheaper to build and operate, especially on mountain terrain. And the locomotive, about two-thirds the size of a standard engine, could maneuver through the tight valleys and passes, traveling up to 40 miles per hour and making 30-degree curves. With more than two dozen stations and flag stops along the way, the train would arrive in Boone at 6 p.m., overnight at the depot, and depart the next morning for the four-and-a-half-hour ride through spectacular scenery to Johnson City.
Pulled by Engine #12, the train included a Railway Post Office car, complete with mailboxes, a sorting area, and its own postmark. The middle section of the car carried baggage and small loads of cargo, and toward the back were nine passenger seats.
Conductor Cy Crumley was the heart of the train. Even his ticket punch was shaped like a heart. The beloved conductor was known to take orders for items over the mountain, purchase, and deliver them; he acted as a chaperone, safely transporting children to relatives; and even allowed those without the full fare to ride—"We're going there anyway," he'd say.
The train also carried manufactured goods, from Ford Model Ts to yards of cloth, into Boone. Industries dependent on the line, including coal, lumber, ice, feed, and fertilizer, clustered around the depot. The train brought construction materials to build houses, stores, and college buildings, and exported lumber and other forest and agricultural products.
Boone's population nearly quadrupled, from 371 in 1910 to 1,295 in 1930, and the downtown grew from a few lawyers offices and general stores to a busy business district. Stores boasted in their ads that they carried the latest fashions brought by the train. Tourism also grew, as brochures praised Boone as a paradise with beautiful scenery, a bustling downtown, and guest accommodations such as the Daniel Boone Inn.
By 1925, five paved roads came into Boone and cars clogged the streets. As the number of automobiles increased, train ridership fell. Freight tonnage dropped as lumber and iron ore were depleted, and revenues continued to fall during the Great Depression. However, it was a flood in 1940 that brought an end to Tweetsie, destroying the track between Boone and Cranberry.
ET&WNC sold the equipment, and Engine #12 became a short-lived attraction in Virginia, until singing cowboy and actor Gene Autry obtained an option to buy it. Recognizing the train's rich history and importance to the area, Blowing Rock entrepreneur Grover Robbins arranged a deal. He found a narrow-gauge train in Colorado for Autry to buy instead, so he could purchase Engine #12 and create an excursion train in Blowing Rock. Tweetsie made its first run at its new home on July 4, 1957.
According to self-proclaimed "Tweetieologist" Ken Riddle, the most important legacy of the train is its long-term economic impact. "Local people loved the train, and were devastated when it was removed," he says. "They were thrilled when Grover brought her back to the mountains and flocked to bring their children to the park. Now those same children come to bring their grandchildren and great-grandchildren. I hope she runs forever."
Today, the Robbins family still owns the park, and Engine #12, which is on the National Registry of Historic Places, continues to enthrall visitors seeking a glimpse into the past.