The Emerald Outback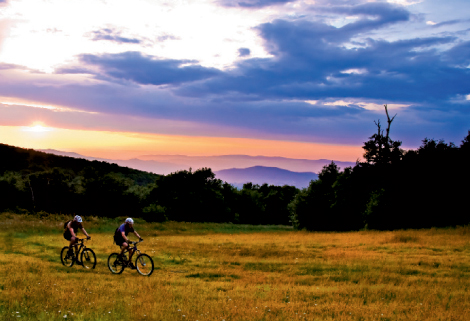 The Emerald Outback
Beech Mountain
Distance: 8 miles
Difficulty: Moderate
Ride through electric-green sedge grass under wind-stunted beech trees in The Emerald Outback and you'll understand why Beech Mountain laid claim to an unusual 1970s tourist attraction called Land of Oz; it may not be the Emerald City, but it's like a scene straight out of the Technicolor film. This eight-mile network of trails opened in May as part of a planned 25-mile Beech Mountain Adventure Trail Park. The hiking is easy to moderate, the biking moderate to advanced.  
For an estimated 4.5-mile bike ride, start at the trailhead near Town Hall and whiz across the slopes on Summer Road, where you'll have views of three states and the East's highest peaks. Then veer into the woods for a loop along Oz Forest Run that takes you past Roan Mountain Overlook. You can go right on Backbone Trail and return to the trailhead, or go left to connect with Overlook Trail and Chamberlain's Loop. You'll see the Elk River Valley, Mount Mitchell, and Grandfather and Hump mountains. The Powerline and Grassy Road trails lead you to Backbone Trail to return to the start.                   
Navigate: The trailhead and parking area are in
downtown Beech Mountain, across from Town Hall. Download a trail map at www.beechrecreation.org.