An Elevated View
An Elevated View:
In this classic mid-century Bert King home, the interior reflects a meaningful vision for the world outside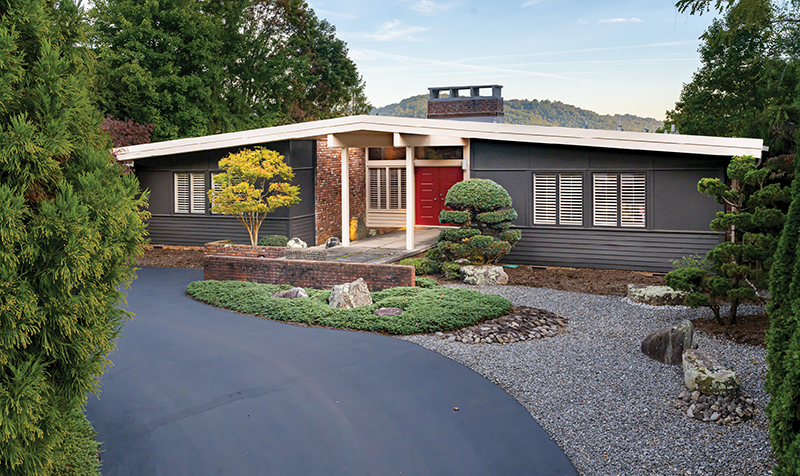 Perhaps it's not surprising that Asheville's best known mid-century residential architect also designed churches. There's something uplifting in Bert King's designs that inspires contemplation, a Zen-like quality that struck homeowner Randy Siegel the first time he saw the home he now shares with his partner, Don Baker, and their dog, Onyx. Although he hadn't lived in a modernist home before, Siegal says he was "looking for an airy, open house with long range views that would showcase my art collection" and right away knew this North Asheville home was the one.
Completed in 1959 for local physician and philanthropist Dr. Leon Feldman and his family, the house was designed in "California contemporary" style, a new direction in an Asheville that was expanding to include suburbs such as the one where the home is located close to the Asheville Country Club. Born in South Carolina but raised locally, King came to be considered the pre-eminent arbiter of mid-century architecture in Western North Carolina, with marquee projects such as his iconic wooden chapel on Warren Wilson's campus.
While interest in mid-century architecture waned for several decades, it's back in full force now, and King-designed properties are highly sought after in the Asheville real estate market. Siegel purchased the home in 2002, drawn to its serenity and simplicity. The home itself is an architecture gem, but the artwork, he says, is its heart and soul.
"In dream language, houses often represent the psyche," says Siegel. For him, that's a fitting way to consider the diverse collection of art and antiques in the couple's home—an outward manifestation of the inner life. Everything in the home "brings its gift and voice, and it all works together to create something stronger," he says, echoing his vision for a world that values diversity, self-expression, and community.
At Home with Harmony
Renovations had been made to the home under previous owners, but many of its original features were intact, including the slate floor in the foyer (a signature Bert King finish), Japanese-inspired woven screens separating the front hallway from the Great Room, and the room's elegant floating fireplace. Another King signature—the wooden roof beams transecting from the front overhang through to the back—unifies the home along the center of the pitched ceiling. The kitchen, master bathroom, and downstairs guest suite were renovated by Sally Spiegel of Sally House to Home, changes intended to update while maintaining the home's original spirit.
King's reverence for nature and talent for framing views of Asheville's surrounding mountains is evident in the home. Through the striking Great Room windows, the vista stretches to Town Mountain, with the red-tiled roof of the Grove Park Inn in the distance and the twinkling lights of downtown visible in the winter. Siegel worked with Asheville landscape architect Mike Oshita to develop a plan that complements the home, one that incorporates elements of Japanese garden design, including bonsai that Oshita still maintains today. In an enclosed garden off the dining room, artfully sculpted bonsai and a water feature are a modern, meditative reminder that the home is in harmony with nature.
Know thy Art
"People collect art for many reasons, including financial gain, social status, creative community, and creating a legacy," Siegel says. "While I can relate to all of these, for me, collecting art is primarily a journey of self-awareness. … Living with the pieces in my collection helped me know, integrate, and eventually share hidden aspects of myself."
That approach explains why the work in the collection isn't limited by medium, time period, or style. While he has very specific interests—African American outsider art from the South, self-portraits, for example—Siegel is driven by his connection to the work rather than any orthodoxy about its origin. There are paintings by well-known outsider artists such Thornton Dial, Clementine Hunter, and Minnie Evans. But there are also a number of portraits by anonymous artists, plucked from obscurity in flea markets and auctions—"lost souls" who find a home amidst this wide-ranging collection. In the study, there's a highboy made for an African-American barber shop in Georgia, circa the 1940s. Modeled after a traditional highboy, but built with found materials, it's decorated with African hex symbols and painted "haint" blue inside to ward off spirits. But there's also traditional furniture mixed in, American (and even North Carolinian) in origin, as well as folk pieces from other cultures, such as dowry chests from Mexico and India.
As much as each piece has its place in the home, "nothing is static" here, Siegel says. "I'm constantly moving things." He "creates dialogue" between objects, changing the conversation every now and again to pair different works with each other. In new positions in the house, objects and art can "relate to each other in totally different ways," he says. The simplicity of the home's design facilitates the dynamic. And its openness and balance with nature bring fresh elements to the palette with each season, from the expansive light in the summer to the glow of the fire in the winter.
Siegel himself is an accomplished oil painter whose work focuses on what he calls "the interior landscape." His works, ranging from portraiture to abstract pieces, have been described as "postcards from the psyche." With a studio in the garage, his home and artistic life are seamlessly integrated.
Before the pandemic, Siegel and Baker liked to host friends and welcomed their curiosity about the art collection. "We invited guests to tour the house, select a painting, and tell a story about it. Inevitability, the story would be their own," Siegel says. In this inclusive collection, art is a threshold not only for looking out into the world, but also for turning the lens inward for deeper self-understanding—impactful views in every direction.
(Clockwise from top left) First Citizens Bank, Asheville; Clyde Savings Bank, Asheville; Warren Wilson Chapel, Swanannoa; Pack Memorial Library, Asheville.
King's Legacy
Architect Bertram "Bert" King (1924-2012) designed not only numerous Asheville-area mid-century homes but also some of the region's most recognizable commercial, public, and religious buildings.