Education Station
Education Station:
Rutherfordton's Kidsenses Museum promises next-level learning with a grand new addition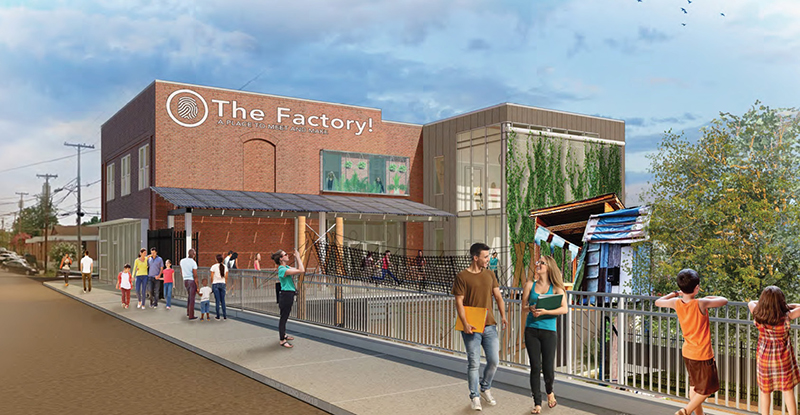 Just Imagine - When complete, The Factory! will house tech labs, a multi-media "idea zone" (shown above) and a garden and kitchen for culinary learning.
In the heart of Rutherford County's former manufacturing district, a new factory is spinning out big dreams for the future. Housed in an old Red Rock Cola bottling facility, The Factory!—an 8,400-square-foot addition to Kidsenses Museum—completed its first phase of construction in June.
Kidsenses has hosted over half a million visitors since it opened in 2004, becoming an anchor destination for Rutherfordton. However, says Executive Director Willard Whitson, there was room to expand the museum's reach. Since kids outgrow the current exhibitions and activities at around the age of 10, the staff saw an opportunity to engage them into their teens, and the idea of The Factory! took shape. The vision broadened to encompass creative resources for the whole community (adults included, with rental event and party space).
The expanded museum, slated to open in fall 2020, will include a tech lab with computers, laser cutters, 3-D printers, and more; an "idea zone" outfitted with multimedia that fuels the exchange of information; hands-on maker spaces; and a "food studio" with a full kitchen for culinary innovation, plus a garden where kids can participate in growing. While the expansion is centered on tweens and teens, the core under-10 audience will benefit as well, says Whitson, and there will be additional opportunities for adults to provide mentorship.
Fund-raising for the expansion was a community endeavor. The three-year, $1.4-million capital campaign garnered contributions from city and state governments as well as local businesses and Facebook, which made a significant donation for The Factory!'s digital infrastructure. Whitson, who came to Kidsenses from the National Children's Museum in Washington, DC, says that the process has brought together stakeholders from across the community in a profound way.
"This is going to fill a vital social need in the community," says Marcia Monahan, the museum's executive assistant. "There's nothing like it in Western North Carolina."
Kidsenses Museum and The Factory!
172 N. Main St., 
Rutherfordton
(828) 286-2120
kidsenses.org
RESOURCES:
Photographs courtesy of (kid and 2 renderings) Kidsenses Museum