Earthy Delights
Earthy Delights:
Savor the season with estate wines that pair perfectly with fall fare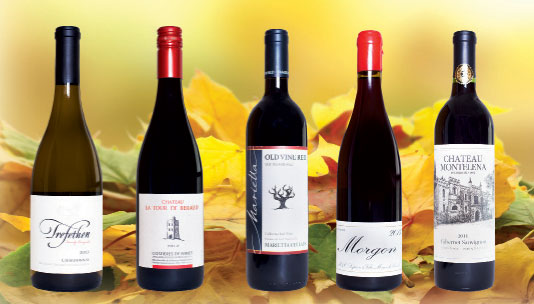 As the leaves change, so too does the smell in the air and the flavors of our food, leaning toward root vegetables and hearty meats and stews. When it comes to selecting seasonal wines, Josh Spurling, owner of Table Wine in Asheville (tablewineasheville.com), recommends "looking for wines that mimic the flavors in the food." Here, he offers a selection of artisan-made estate wines—meaning the entire process, from vine to bottle, is family operated—that pair perfectly with the earthy nuances of fall.  
 
Trefethen Chardonnay  2013 » $23
This barrel-fermented chardonnay from Napa Valley is a classic pairing for roasted butternut squash. The oak lends notes of caramel, cinnamon, clove, and vanilla to this full-bodied white. Spurling suggests keeping it simple, roasting the squash with olive oil, salt, and pepper. "Paired with toasted butternut sweetness, there's this combo of flavors that's just wonderful."
Chateau La Tour de Beraud  2012 » $17
A Grenache-based wine of southern France, the Chateau La Tour is "assertively flavored, full-bodied, and abundant in flavors of warm fruit. It's also got the spice and herbal notes—lavender, thyme, black pepper." Pair it with bold flavors, such as white bean and lamb stew with rosemary and garlic. "Think Provence, and that's it."
Marietta Old Vine Red    » $15  
"This is one of the all-time great red wine values to come out of California. It carries this peppery nuance, but holds flavors of big, ripe, supple fruit at the same time. A zinfandel, blended with small amounts of carignane and petit sirah, "it's a perfect game-day red." Pair it with chili, wings, and other fan favorites.
Morgon 2014 » $30
"If ever there were a wine that smelled and tasted like fall, this would be it," Spurling says. Hailing from the Beaujolais region of France and made from 100-percent gamay grapes, Morgon "tastes like a freshly picked cherry mixed with some really healthy dirt and leaves. This with roasted chicken and vegetables, especially beets, is a perfect fall night."
Chateau Montelena Cabernet Sauvignon  2011 » $50  
"Montelena is good for a regal sort of meal." It's a classic full-bodied cabernet sauvignon produced by one of the early boutique wineries in Napa Valley. "This has more red fruit like cherry and red currant and almost this minty, eucalyptus flavor," which is why it's a good pairing with leg of lamb or lamb chops.