Down the Road Again
Down the Road Again:
A new podcast tunes in to mountain music milestones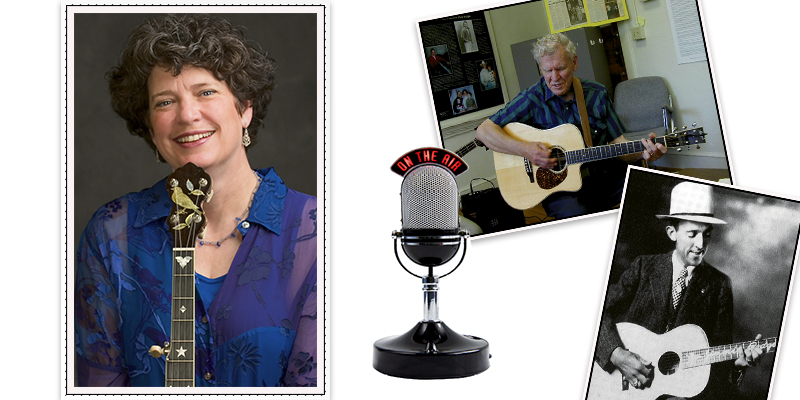 Above photo, left to right: Laura Boosinger, Doc Watson, and Jimmie Rodgers
Western North Carolina's roots music scene is both rich in history and still vibrant today. Now, three regional institutions—the Blue Ridge National Heritage Area, music publication No Depression, and WNCW radio—have come together with a goal of telling the deep-rooted stories of mountain music. Fittingly, they've selected Laura Boosinger, the celebrated local musician and folklorist, to host a new series of radio segments and online podcasts, Down the Road on the Blue Ridge Music Trails of North Carolina.
In each episode, Boosinger highlights a topic of interest to lovers of bluegrass and old-time music. "They vary from stories about people and venues, and sharing important information about the Blue Ridge Music Trails," she explains. One currently available edition focuses on the popular and long-running Merlefest. In the space of just two minutes and 30 seconds, the segment provides a history of the annual Wilkesboro event, with listeners coming away informed and entertained. Other segments have focused on the likes of country music pioneer Jimmie Rodgers and Madison County balladeer Sheila Kay Adams. Ten episodes of Down the Road are complete, and 10 more are in the works. "We're scheduled for 30," Boosinger says, "but I think that's just the beginning."
Have a Listen
Down the Road on the Blue Ridge Music Trails of North Carolina
WNCW-FM (88.7 FM) - Tuesdays, 10:15 a.m. & Sundays, 4:30 p.m.
Podcasts at http://www.blueridgemusicnc.com/
RESOURCES:
Phototgraphs (Laura Boosinger) courtesy of WNCW-FM; (Doc Watson) Jeff Eason