Don't Shoot!
Don't Shoot!:
You'll want to sip and savor Limone's tequila flights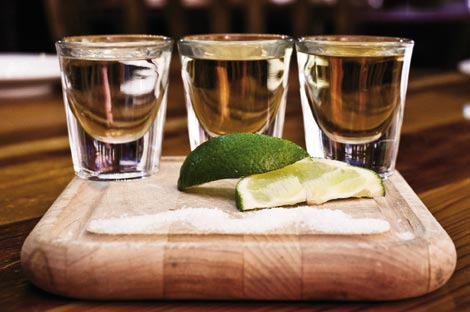 Lick the salt. Take the shot. Suck the lime. Even if it's been a decade since your last tequila shot, you know the drill. And chances are, if you've ever overindulged in a night of drinking the Mexican liquor, how you felt the following morning is likely what you remember the most. But while tequila may have an intimidating reputation, like any alcohol, there's a big difference between the cheap stuff and the good stuff. Refined tequilas, made only from 100 percent blue agave, are as smooth and flavorful as an exquisite scotch or bourbon and are meant to be relished as such.
Limones restaurant in Asheville serves only the good stuff—45 bottles of it—to complement its Mexican and California cuisine. Owners Hugo Ramirez and Amy Cavanaugh offer tequila flights, so you can distinguish the subtle nuances for yourself.
Diners can choose three one-ounce pours from a menu categorized by blancos (silver), reposados (rested), and añejos (aged). "Tequila is a little like wine," says bartender Stephanie Marlowe, "the longer it's aged, the more flavor notes it's going to have."
The clear blancos, which aren't aged, showcase citrus, floral, and some spice characteristics. Reposados are "rested" up to a year in wooden barrels and offer nuances of caramel or butterscotch. The añejos are considered the true sipping tequilas, and are aged one to three years in used bourbon barrels, which lend a golden color and a sweet, smoky flavor with hints of vanilla and spice.
These shots are served as you would expect, with salt and lime, but aren't meant to be thrown back, rather sipped and savored. No pucker faces here: These are easy to drink. The only difficulty is choosing which to try. So what's good? Server Maty Hollingsworth will tell you that it's subjective. "Tequila tastes different from palate to palate," he says. But if you want his recommendations, he'll guide you to a trifecta of flavors that will change the way you think about tequila.
Limones
13 Eagle St., Asheville
(828) 252-2327
www.limonesrestaurant.com