Design Leap
Design Leap:
A father's search for healthy building materials brings about an innovative home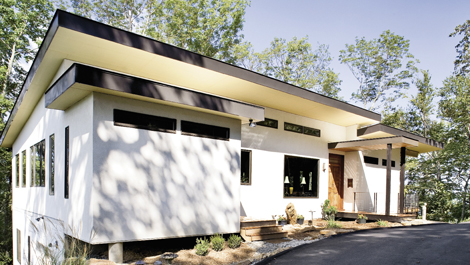 At the heart of every business plan is a mission statement. But the creed for Push Design comes from the heart of its founder Anthony Brenner: "My entire goal is to have the resources and knowledge to build my family the perfect house."
It's a lofty goal that doesn't center on the number of rooms or square footage, but is instead rooted in the ideals of his firm, which focuses on creating nontoxic, chemical-free, sustainable living and working environments. Anthony is a large step closer to his aspiration with the company's completion last summer of the first house in the United States to use industrial hemp for exterior walls and a potentially revolutionary recycled-paper product on the interior.
Anthony's quest for a clean house began shortly after the birth of his daughter, Bailey, in 2001. When she was seven months old, she began suffering seizures that caused vision, hearing, and physical impairments. Anthony and his wife, Jennifer, were distraught when doctors couldn't offer an explanation. For three years, the family ventured to medical centers across the country, consulting with a range of doctors, specialists, and alternative-medicine practitioners. Finally, changes in her diet helped bring the seizures under control for nearly two years.
In the meantime, the staggering medical costs forced Anthony to revive his professional football career after being out of the game for more than four years. Formerly a place kicker at East Carolina University and in the Arena Football League, he tried out and was signed by the Denver AFL team. The family moved to Colorado where Anthony says "we planned to live the rest of our lives because we loved it."
But Bailey's seizures suddenly returned—she often experienced 60 or more in a month. Again, no medical answers emerged, but tests of the air inside and outside the family's home revealed they were being exposed to toxins. He and Jennifer decided that she and their two daughters would relocate to Anthony's hometown of High Point, while he stayed behind to complete the football season. The family's separation was offset by the fact that Bailey's seizures virtually stopped after settling in North Carolina, and remain controlled four years later.
"It's a testament to how environmentally and chemically sensitive she is that literally 60 days after we came back to North Carolina her seizures were gone," Anthony says. "From that point on, we became very cognizant of what we were exposing her to and that made us very aware of our environment."
After the season, Anthony rejoined his family and went to work with his father in the furniture business. He then connected with an Asheville home builder, allowing him to use his background in art (his course of study at ECU) and furniture to build an interior design portfolio. More importantly, he discovered a new calling that led to the creation of Push Design, where he is a partner and lead designer. The foundation of the company was his research into healthy materials for every aspect of a home.
"My goal from day one was that everything I'd design, all the materials used, would meet Bailey's standards," Anthony explains. "If things weren't nontoxic and chemical-free, then I wasn't interested."
The design firm's first project was an innovative custom home built in Asheville for the city's former mayor, Russ Martin, and his wife, Karen Korp. The Push House, as it's called, is the first permitted home in the United States to be built with exterior walls of hempcrete, a sustainable application made with hemp and lime. Hemp is derived from the husk of a cannabis plant, widely associated with marijuana, but this is the industrial version. The imported product (it's illegal to grow and produce hemp in the United States) used in this house is marketed under the commercial name Tradical Hemcrete, and was sourced through Asheville-based Hemp Technologies.
One of the distinct advantages of hempcrete is the breathability of the walls. According to Anthony, this is important since there is growing research on the negative impacts of ever-tighter structures that hold in and increase exposure to toxic substances.
The interior walls are comprised of Pure Panel, which is 100-percent recycled, corrugated cardboard sandwiched between magnesium oxide panels. Anthony is convinced that Pure Panel could revolutionize home building as the alternative to conventional drywall, which he contends is "laced with nasty stuff."
The Push team, which also includes managing partner David Mosrie, project coordinator Justin Mitchell, and project consultant Jacob Nguyen, created the overall design for the house, researched all the products used, and specified materials. The floor plans and elevations then went to local structural engineer Medlock & Associates for final drawings, with Donahue & Joseph Builders serving as the general contractor.
Push Design's latest project is the creation of a nontoxic house for a woman who suffers from extreme sensitivity to a range of chemicals and products, including wood. Her West Asheville home will feature a steel frame with walls, doors, and furniture constructed with Pure Panel.
The team intends to expand the firm's operations to include nontoxic furniture lines, as well as collaborate with land owners to develop sustainable and healthy communities, and serve as a source for the products they use.
In fact, Anthony believes he now has the techniques and materials that will allow him to build that perfect house for his family and others. "We've developed a system that's affordable and allows us to create a home that's not just healthy, but also aesthetically pleasing," he says. "The forward thinking we've done has put us in position to have a real impact."
Healthy Choices
In a world of ever-growing technological advances, it's intriguing that a natural material cultivated and utilized since the Stone Age is suddenly considered innovative. That's certainly the case with hemp, which serves as the base ingredient for the walls of the Push House.
Hempcrete is made by combining ground hemp stalks with lime and water in a concrete mixer to produce a slurry that is then poured into plastic forms set within a typical stick-built frame. Once they cure, the walls can be coated with plaster or stucco. Even after coating, the walls can "breathe," helping filter air in the house. The material is flame retardant and resistant to insects, mold, and mildew.
Perhaps even more innovative is the house's Pure Panel wall system, which is comprised of 100-percent recycled cardboard coated with magnesium oxide. The product, in addition to its sustainable aspects, is extremely strong and lightweight.