Dashing Gent
Dashing Gent:
Leaving old age in the dust, 89-year-old Charles Dotson keeps on running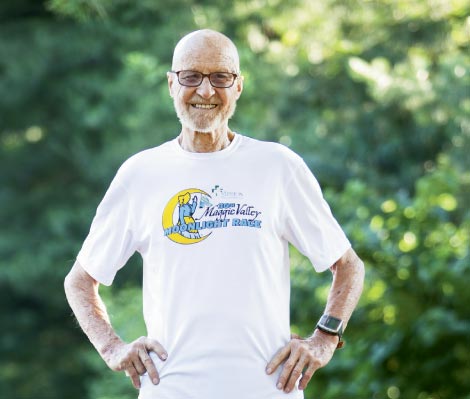 Charles Dotson's house in Lake Junaluska is a short jog from a foot clinic. Nearly every day, he sees people hobbling from their cars into the office. They should take up running, he thinks to himself. It may seem counterintuitive to tell someone in pain to turn to a sport for relief, but it's a prescription that's served Dotson well.
Thirty-two years ago he set out on his first run, and now approaching 90, he still feels the benefits. "No medication. Never have had any," he says, a spry champion who holds a national and several state Senior Games running records. "Not even an aspirin."
A trim 140 pounds on a five-foot-nine frame, this legend among area road racers looks far younger than his years. Though he reserves the right to reassess that height stat. "I may be less than five-foot-nine now," he says with a chuckle. "You shrink with age, you know." Dotson is often the oldest person in the many races he enters, but he's nowhere near the last to finish, crossing the line at a near sprint. "I don't like to be second in anything," he says.
His commitment to running is fueled in part by his vegetarian lifestyle and soy milk smoothies made with vegetable protein powder. He downs at least eight glasses of water a day, whether he's running or not, and his resting heart rate is 39 beats per minute. For comparison, Lance Armstrong's uber-efficient heart pumped at 32 to 34 beats per minute while he was in peak training condition. The average resting rate for nonathletes is between 60 and 90.
Retired from a career at the former Champion paper mill in Canton, Dotson is out nearly every morning, running at least 2.5 miles. His regular route includes hills and flats, a  mix he needs to train for competitions in the mountains. Until recently, he ran 30 races a year. In 2011, he conquered 26. This year, he expects to run 20 and pace himself with 10Ks or shorter courses. "As I get closer and closer to 90, I think it will be a good idea to do fewer races and less mileage," he says.  
Years ago, Dotson had reason to be concerned about his health. In those days, he lifted weights, but also ate a lot of red meat and drank whole milk. Family history pointed to possible health problems on the horizon. His father was a smoker who began having heart problems at age 60. His mother died at 65. Three of his cousins had hip or knee replacements.
At 58, he went for a physical and found out his blood pressure was elevated. The doctor, a runner, suggested that Dotson take up the exercise. So he started walking, then picked up the pace. Soon he was up to 2.5 miles. The more he ran, the more he wanted to run. Months later, he entered a 10K in Lake Junaluska and won in his age group. Since then, he's conquered countless 5Ks and 10Ks and several half marathons. Once, he raced from the Haywood County Courthouse in Waynesville to the Jackson County Courthouse in Sylva (18.6 miles).
Dotson, a member of the Asheville Track Club, still has the competitive fire, though he doesn't expect to win the broad 70 to 98 age category every time. "If I'm racing someone my age, I go all out. I race to win," he says. "If I'm racing someone 10 or 20 years younger than me, I run for the pleasure of running."
This month, he's looking forward to two events, the Hot August Night 5K in Asheville on August 18, and the Maggie Valley Moonlight 8K on August 25. In September, he'll run the 400-, 800-, and 1,600-meter, and 5K races in the North Carolina Senior Games finals in Raleigh.
For anyone of advanced years interested in taking up running, Dotson recommends starting slowly, both in pace and distance. Walk first, and when that becomes easy, throw in a jog. Keep it up as long as it feels good. It's advice Dotson intends to follow himself. "I've slowed down, but I'll never stop," he says. "As long as I can run pain-free, I'd like to be running when I die."