Cultural Ties
Cultural Ties:
Joel Queen expands on his legacy with contemporary and foreign influences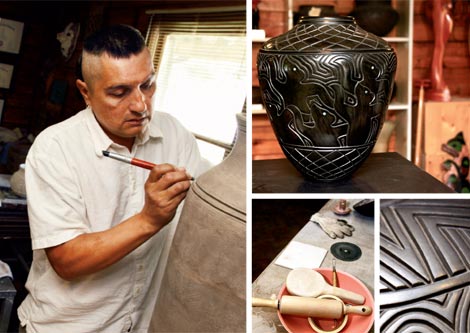 "What is tradition?" asks joel queen. The question is one of particular relevance for the 43-year-old Cherokee artist. A ninth-generation potter from the Bigmeat family lineage, he carries the weight of hundreds of years of heritage on his shoulders. But, "I don't want to dwell on the past," he says. "I see it as a jumping point to move forward."
Queen has moved forward primarily with his blackware pottery, in which he employs the molding and firing techniques, symbolic motifs, and basic shapes of ancient Native American pottery to create award-winning contemporary works. He's one of the first Cherokee artists to blend other artistic styles, including Egyptian and Greco-Roman, with the art of his ancestors.
Unlike the historic thin-walled Qualla-style pots, which featured conical bases, beige and black coloring, and shallow, crisscrossed indentions, Queen's creations are large, thick-walled coil pots, engraved with swirling, densely packed lines. The engravings on some pieces form patterns shaped like birds and turtles; other vessels are affixed with sculpted, ceramic objects such as ears of corn.
Using clay dug from a vein on his property, Queen molds his pots by hand, fires them once over pine and manure, and then again in a reduction kiln. The second firing produces the black color by pulling oxygen from the clay and allowing carbon to soak in—a technique similar to Japanese raku firing.
The techniques of Qualla-style pottery were all but extinct, Queen says, by the time his high school art teacher encouraged him to try many mediums, including sculpture, painting, leatherwork, and silversmithing. That fervor to explore art's myriad forms and history stayed with him after graduation, when he decided to assume the family mantle and reawaken the pottery traditions last carried out by his grandmother. It's this synthesis of old and new, native and foreign, that Queen sees as the new standard in Native American art.
Queen is also known for his large-scale wood and stone sculptures, but his black-style pottery has brought him the most acclaim, earning first-place awards at the Santa Fe Indian Market, the largest Native American art competition in the country. Even so, he still produces traditional pieces to help keep the old techniques alive. "For a while, I thought I was going to be the last true, traditional-style potter," he muses, "but now my son is starting to pick it up, too."