Crafting Excellence
Crafting Excellence:
Backed by a hefty grant, Warren Wilson ramps up its craft programs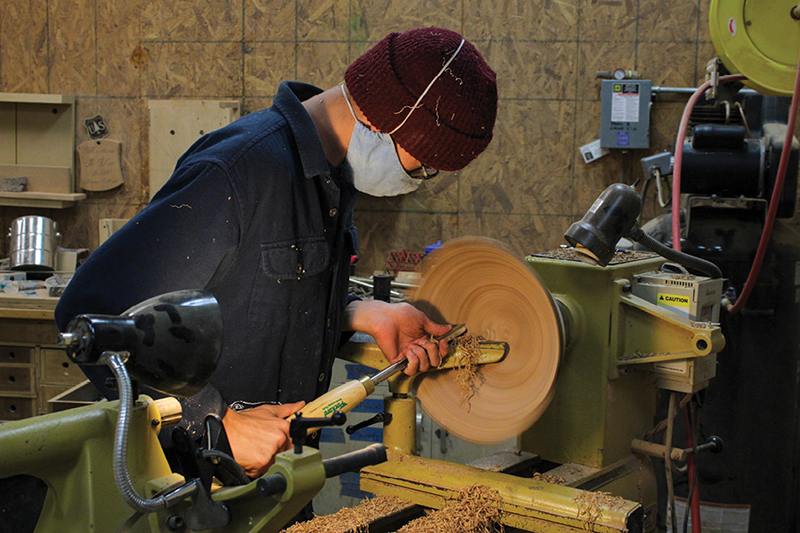 Warren Wilson College already boasts an impressive craft program that includes fiber arts, blacksmithing, and fine woodworking. Now, the Swannanoa school will significantly expand its craft programming after receiving a nearly $1 million grant from the Windgate Foundation. "We are ready to take our undergraduate craft programs to the next level," says Warren Wilson president Lynn Morton.
Work crews are a cornerstone of Warren Wilson's craft program, which offers an undergraduate minor and a master's in critical craft studies. Each year, for example, the fiber arts work crew cultivates a dye garden and uses wool from the college's sheep to make yarn, while a fine woodworking crew creates chairs, tables, and bowls from wood harvested in the college forest. And the blacksmith crew constructs tools out of repurposed coil and leaf springs collected from local auto shops and scrapyards.
The grant will help expand all of these crews and their approach to experiential learning, as will a new Craft Studios program geared toward work-learning opportunities.
"What distinguishes Warren Wilson's craft programming is that we can teach how things are made, from raw materials to finished craft objects, with scholarship and history-guiding learning," says Namita Gupta Wiggers, director of the master's program. Morton adds, "This vision and plan will elevate Warren Wilson as one of the strongest liberal arts colleges in the country with this distinctive focus on craft."