A Cradle of Jazz
A Cradle of Jazz:
Nina Simone's birthplace in Tryon offers a walk back in time, but faces an uncertain path ahead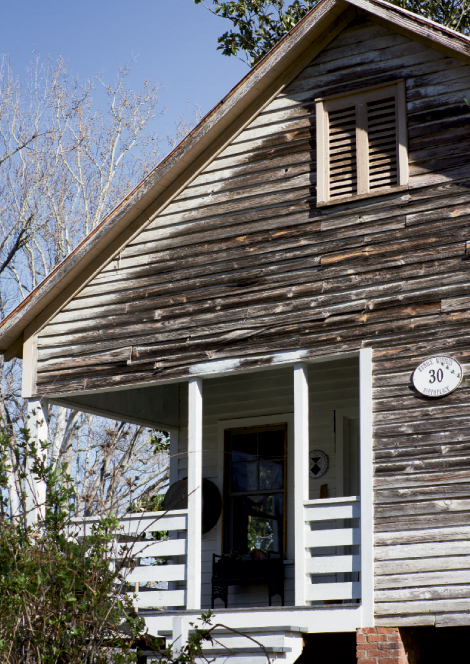 She became known the world over by her stage name, but the late, great jazz singer Nina Simone started life in relative obscurity as Eunice Kathleen Waymon. The sixth of her parents' eight children, she was born in Tryon in 1933.
In her memoirs, Simone described her first home—at 30 East Livingston Street, a half mile east of downtown—as a "big house" surrounded by a yard with a slide, swing and basketball hoop, along with a garden, a few chickens, a couple of hogs, and a cow. A three-room, 600-square-foot rectangle of beadboard inside and tin on top, it wasn't big in the traditional sense, but it sheltered a huge talent. It was there that she became enraptured by music, listening to her mother sing (her first memory) and trying her hand at the pump organ when she was only two years old. At age six, she became her church's pianist, and in short order, was known as Tryon's "little prodigy."
Now, much of Simone's birthplace has been restored to honor its history, but its future is in jeopardy. The home's would-be preserver, Kipp McIntyre, bought the house in 2005, and he's since spent more than $80,000, he estimates, in an effort to return the structure to its original state. Working with local contractors and volunteers, he's replaced the foundation and stripped away drywall and other layers of modernity; with help from Simone's friends and one of her brothers, he's installed period furniture and fixtures to replicate the home as she would have remembered it.
For McIntyre, a former museum curator and county economic planner, the project is a labor of love that he can no longer afford. Late last year, he was forced to suspend the restoration project and put the house on the market. His asking price is $143,000, but he wants something more from any potential buyer: a commitment to Simone's legacy.
"I'm trying to stick with three criteria: that the house always be known as the birthplace of Nina Simone, that it be protected in perpetuity, and that it appears both inside and out as closely as possible to how it did in the 1930s," McIntyre says. "My hope is that out of sensitivity for the work that's already been done, that will happen naturally and not be imposed."
The house, built in 1928, is one of the last remaining of its era in east Tryon, and one of the few physical vestiges of the vibrant African-American community that nurtured young Eunice Waymon, McIntyre notes. He winces at the prospect of a future owner tearing it down. "It would be a great personal disappointment, and the resulting damage to the community would be irreversible, but I can't control that," he says.
Ideally, McIntyre explains, he'll sell to a sympathetic individual or group from Tryon, as opposed to a buyer from elsewhere. "We started local and stayed local with this project," he says. "This is a time for the local community to step up. The community will have to rally for this house to be protected into the future."
If the house doesn't survive, it will be more than Tryon's loss, McIntyre stresses. A vital milestone in the history of Simone's rise from "little prodigy" to jazz legend will disappear, taking with it the chance for her legions of fans to visit.
"If you really want to hear Nina Simone's music in a new way, walk the two miles from this house to where she took piano lessons and walk back again," McIntyre says. "It will change the way you hear and interpret the lyrics. She did not choose those words haphazardly; She was drawing on her entire life experience, and that all started here."