Cool Idea
Cool Idea:
Winter Green proves you don't need to say goodbye to local produce at the first frost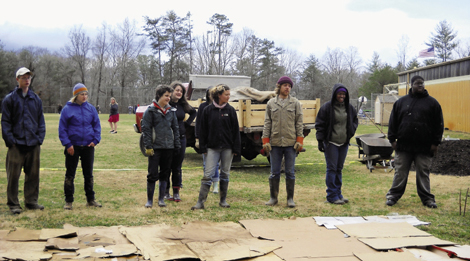 By the time november hits Western North Carolina, the vibrant greens that coat the region's summertime landscape are long gone. The harvest is done, and most fields and gardens lie fallow until spring.
But for a small group of Asheville-area growers, fall is the time to plant. Seeking to strengthen interest in local food and spread the message of sustainability, the fledgling group Winter Green grows winter-hardy produce from fall through early spring in covered structures known as hoophouses and low tunnels.
"All winter long you can have a good
supply of fresh greens—it's really quite amazing," says cofounder Joan Engelhardt. "In this area, there's a lot of interest in and demand for local food. We all go back to the grocery store when winter comes and we don't have to."
Launched in 2008 by Engelhardt and Pat Hinkley, Winter Green's mission is to train backyard gardeners and entrepreneurial growers for four-season organic food production. The nonprofit also aims to educate children and adults about the value of local, organic food and healthy living. Aided by site manager Mike Adams, the group grows its own crops for local markets, restaurants, and food banks.
Winter Green focuses on greens that thrive in cool weather, such as kale, chard, collards, lettuce, arugula, spinach, and parsley, along with beets, carrots, turnips, and onions. These crops grow in sunny spots inside unheated hoophouses that are constructed with arched metal poles and covered with clear plastic. The sun heats the interior during the day, and the soil emits that heat overnight.
"What's curious is that on a sunny, 50-degree day, the hoophouses can even get too warm for the covered crops," Hinkley explains. "Then we roll up the sides to regulate the temperature."
Some of these plants, such as lettuce and spinach, grow easily by direct seeding in growing beds, but plants like collards and carrots benefit from starting in a greenhouses and then being transplanted.
"In the middle of winter, when you walk into a hoophouse, with its smells, colors, warmth, and life, it's an antidote to seasonal affective disorder," Engelhardt notes. "There's something about growing things that's pretty magical."
Future growth
This season, Winter Green has planted half an acre in Candler while searching for a permanent site to expand its planting capabilities and educational offerings. The group has maintained a hoophouse at Community High School in Swannanoa, but is looking for an acre in the Asheville area to accommodate four 20- by 50-foot houses, plus rows of low tunnels. There are also plans to build a learning center to host school field trips and cooking classes.
The nonprofit is already collaborating with local schools. Students at Evergreen Community Charter School and Randolph Learning Center will help grow vegetables this winter in hoophouses that the group installed last spring, Engelhardt says.
"Winter planting allows students more time to see how things grow," Engelhardt noted. "It's empowering to grow something and nurture it and harvest it."
The group also works with service-learning students from Warren Wilson College and has participated in a job training apprentice program with Green Opportunities, a nonprofit that teaches at-risk youth skills for sustainable jobs.
In the process of registering as a charitable organization, Winter Green has partnered with Asheville GreenWorks, which acts as fiscal sponsor to manage donations. "What they're doing is getting people involved in their own environment," says Asheville GreenWorks Executive Director Susan Roderick.
Through education, the group hopes to address issues of climate change, food consumption, and transportation costs by influencing individuals' choices to connect with community food sources year round.
"Everyone can have an impact—that's the only way it starts," Engelhardt says. "If you're closer to where your food comes from, you have more knowledge of what's healthy and your choices. We both believe that's the future."
Winter Green
Asheville
(828) 242-2578
For anyone interested in a backyard harvest before spring, the group can install a walk-in hoophouse as small as 12- by 10-feet, or a four-foot wide low tunnel that accommodates a few rows of plants under its 30-inch height.
www.winter-green.org