Comfort Zone
Comfort Zone:
This year, interiors trends reflect a world happily cocooning at home, says Asheville designer Talli Roberts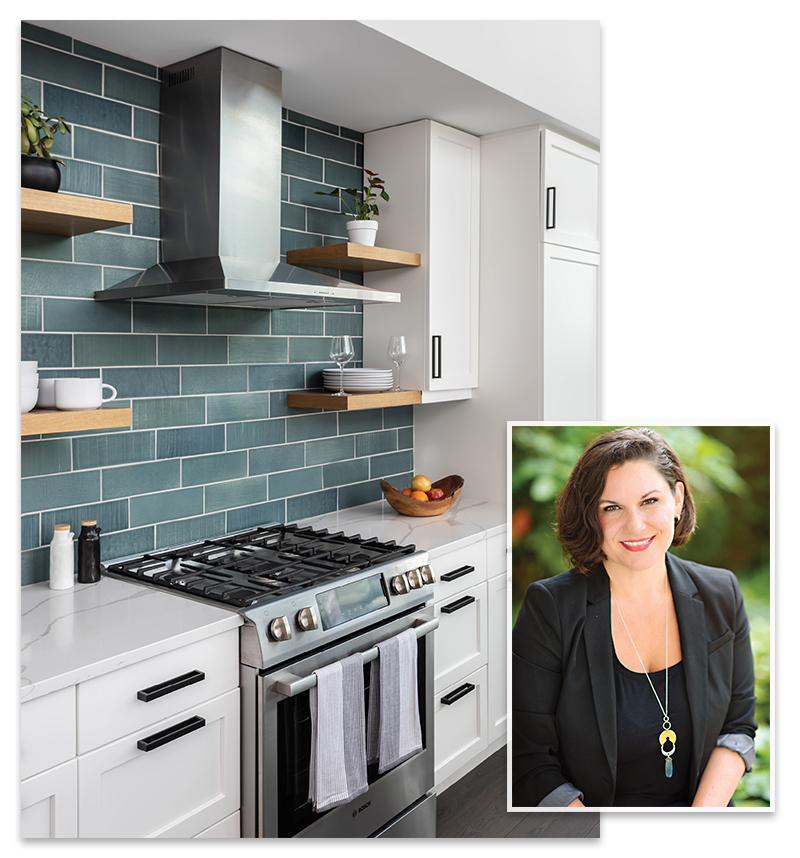 Latest Fashion - Fresh from a visit to the High Point Market, the world's largest furnishings trade show, Talli Roberts (above right) is primed to share emerging design trends like the natural finishes and black hardware in the kitchen at left.
After several years of challenging times, the expression "the comforts of home" has taken on new meaning. "Our lives had to be pared down," notes Talli Roberts of Asheville's Allard + Roberts Design. As we all spent more time at home, the desire for an environment that offers ease and authenticity became stronger than ever. In interior design, that's been translated as a trend toward simplicity and "honesty of materials," Roberts says, with an emphasis on "letting things be what they are."
"Houses don't have to be perfect," she adds. "They're supposed to look lived in." Below, she gives us a peek at how this ethos will play out in design this year.
Mixing it Up
Just a few years ago, Roberts says, "I never would have thought that I'd be ordering a matte white faucet." But this year, metal finishes are neither as uniform nor as traditional as they've been in the past.
"Brushed brass, black, and gunmetal grays are often mixed together throughout the home," Roberts says. Matte surfaces are making a comeback in metals, especially for black or white finishes. Black hardware is showing up in rooms all over the house, from cabinet handles in the kitchen to shower curtain rods. With the new emphasis on natural materials and earthy colors, metal finishes will harmonize rather than overpower, playing a supporting rather than a starring role.
MIXOLOGY - A blend of natural, earthy tones is helping designers strike the right balance. The Sherwin Williams color Crooked River, right, sets a good warm vibe, and a mix of woven accents helps complete the setting.
Curves Ahead
For 2022, designers are thinking outside the box and leaning into curves. The rounded silhouettes seen in art deco furniture are back, this time "on steroids," says Roberts. That could translate to an upholstered sofa (soft, unstructured fabrics such as Belgian linen are in) with proportions that are "blown up" beyond the traditional petite scale of art deco furniture. These reimagined pieces might contain elements from another style—a midcentury wooden leg, for example—might be a little overstuffed, and might even look at little bit '80s. But combined with the new warm neutral colors (read on), they look completely fresh. Midcentury is still popular, but now an entire house may not be in a single style—mixing styles and decades in one house is perfectly fine.
Down to Earth
The gray accent wall has been a standard on the interior design scene for years now. No more, says Roberts. While gray isn't going to disappear completely, the dominance of the gray and white room is over. Instead, warm, earthy neutrals are on the rise—washed terra cotta and soft sage green, for example. Natural wood is in demand, too, in finishes such as white oak with just a clear coat or natural finish that lets the grain of the wood show through. In a departure from past practice, a door might be left unstained while the trim around it is painted.
Where colors and finishes whisper, surface texture takes center stage. Boucle, mohair, linen, and wool make an appearance in upholstery or accents such as pillows or throws. Woven accents—in everything from baskets to rugs—are another way to introduce texture.