Clearly Artistic
Clearly Artistic:
Glass works shine in a multi-venue summer series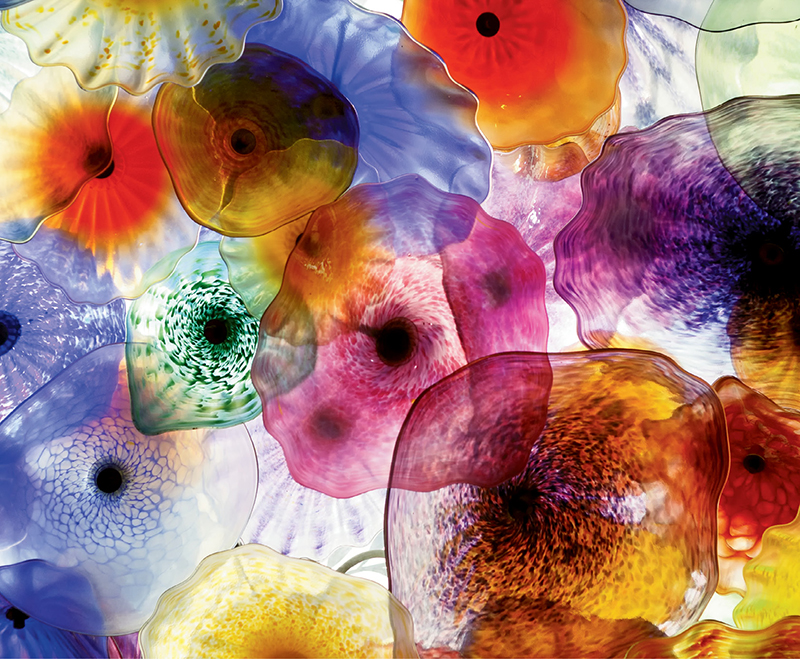 There's justifiable local pride in North Carolina's pottery tradition. While it's a relative newcomer in the craft world, studio glass has strong roots in WNC, and this year, over 60 artists, galleries, and museums in the region are shining a light on this art form with exhibits, tours, and special events during the Summer of Glass.
The celebration was inspired by Chihuly at Biltmore, North Carolina's first-ever garden exhibition of work by renowned glass artist Dale Chihuly. In conjunction with the Biltmore event, North Carolina and the Studio Glass Movement, an exhibit about the evolution of the local glass arts in the area, will be on view in Asheville's River Arts District through October. The show highlights how, along with several colleagues, Harvey Littleton—known as the father of the studio glass movement—helped draw glass artists to the area after moving to Penland in 1976.
Today, WNC is home to over 100 glass artists, whose works range from sculptural to functional, experimental to traditional, blown glass to stained glass. You can find these Asheville and regional artists' work in galleries such as Asheville's Momentum or Bender Gallery, Spruce Pine's Toe River Arts Council, or the Folk Art Center on the Blue Ridge Parkway. At the North Carolina Glass Center, you can see work being made daily or even learn to make it yourself. Downtown Asheville's Lexington Glassworks combines two Asheville favorites: glassblowing demonstrations and beer on tap. You can also make a studio visit or a multi-studio tour through Asheville's Art Connections Tours. Director Sherry Masters says, "Visiting a glass studio is a great way to learn more of the back-story directly from the artist."
On July 27, Burnsville is unveiling the Gateway Project, a new public work of art that highlights the area's studio glass history. A nod to Captain Otway Burns, a War of 1812 naval hero and the town's namesake, the 22-foot-tall telescope-like sculpture features 13,000 hand-blown glass bulbs designed to glow with natural light during the day and solar-powered electricity at night.
While the Summer of Glass spotlights the region's studio glass, the Gateway Project will ensure that the light keeps shining long after the summer's over.
For a full slate of Summer of Glass events and exhibits, see www.exploreasheville.com/
RESOURCES:
Photographs courtesy of (Harvey Littleton) John Littleton; (Chihuly Exhibit) Biltmore Co.; (glass vases) Lexington Glassworks