Clear Talent
Clear Talent:
Nate Cotterman uses the most fluid of materials to build a solid career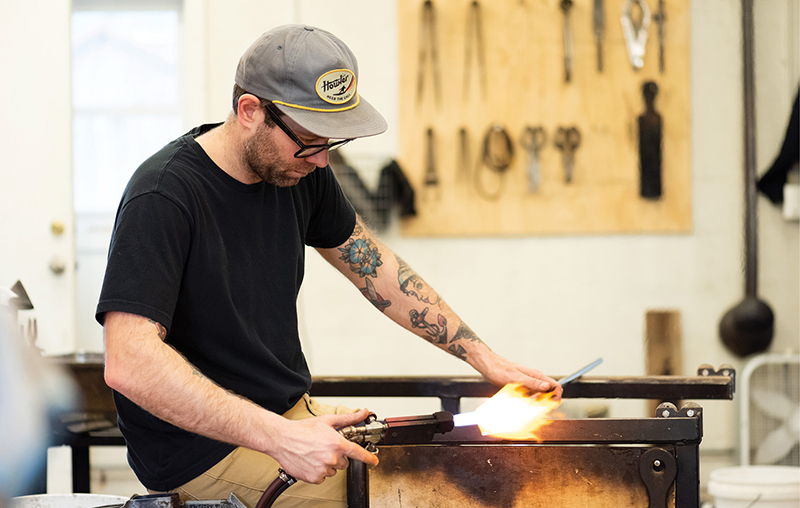 Nate Cotterman - See and purchase his work at natecotterman.com and Penland Gallery, penland.org/gallery
For a short window in the glassblowing process, the material is glowing, fluid, alive with possibility. The artist has the opportunity to shape it according to his or her vision. For Nate Cotterman, currently in residence at Penland School of Craft, life imitates art as he shapes a career that flows between art and design, beauty and function, and a life that blends work and family.
)Cotterman's Cube decanter (left) pairs perfectly with his patented and popular Cube glass, which keeps drinks cold.
A native of Ohio, Cotterman came to Penland first as a teacher during the summers while still living and working in Los Angeles. Before attending the Cleveland Institute of Art, he had considered a career in industrial/product design. He's a natural problem solver who enjoys repeatedly refining drawings before stepping into the studio. But designing alone wasn't enough. "I love the process as well as the design [and] having a conversation with the material," he says. Glassblowing is a "muscle memory" form of art he says, with an encoded set of steps that have to be repeated. But the material itself is responsive. Although he's known for clean lines and fluid forms, he experiments with texture in his Incision series—vases and bowls with horizontal, oblong designs on the surface created by cooling and reheating the piece.
Blowing glass in the Venetian tradition, Cotterman follows a time-sensitive process that requires decisive action in quick bursts while the material is hot. But the preparation for a day of production starts well in advance. The furnace, which Cotterman built himself, takes a week to get hot and a week to cool down, and the glassblowing itself is a team effort; Cotterman has a studio assistant to help.
Running a creative business is a team effort, too. Cotterman's wife, Antonia Campanella—also an artist—manages the business end of the operation. A veteran of the design world, she established a presence and made connections through craft and interior shows, and the studio now sells wholesale, retail, and commission. It was a "slow build," she says, but it's a sustainable business that allows the couple to balance art and family life with their young son.
While his barware pieces have brought the most attention and sales, Cotterman also does exquisite lighting and other works, like the Incision bowl.
Cotterman has a few pieces that have become mainstays of his work, including the Flow wine decanter, for example, and the Balloon bottles—simple, single-color shapes showcasing his characteristically clean lines. But the Cube rocks glass has achieved near legendary status, especially with bourbon enthusiasts. Recognizing the insulating properties of the material, Cotterman created and patented a design in which a solid glass cube is fused to the bottom of the rocks glass. It can be chilled in the freezer and will retain its coldness, thus eliminating the taste-altering properties of melting ice.
"I love the process as well as the design [and] having a conversation with the material." —Nate Cotterman
A feature about the Cube glass in Food & Wine led to a surge in interest in the piece that gave Cotterman the freedom to expand and explore other lines of work, such as lighting, which ranges from simple sconces and desktop pieces to dramatic ceiling installations and custom work. Cotterman's artistic talent and high standards are a starting point, says Campanella. Successful products are the expression of that.
After completing the residency this summer, the couple plans to return to the Midwest to be closer to family and establish a studio there, maintaining that fluid balance between art and business, work and life.