A Clean Slate
A Clean Slate:
In West Asheville, a nomadic couple settles into their first house and enlists a designer to make it home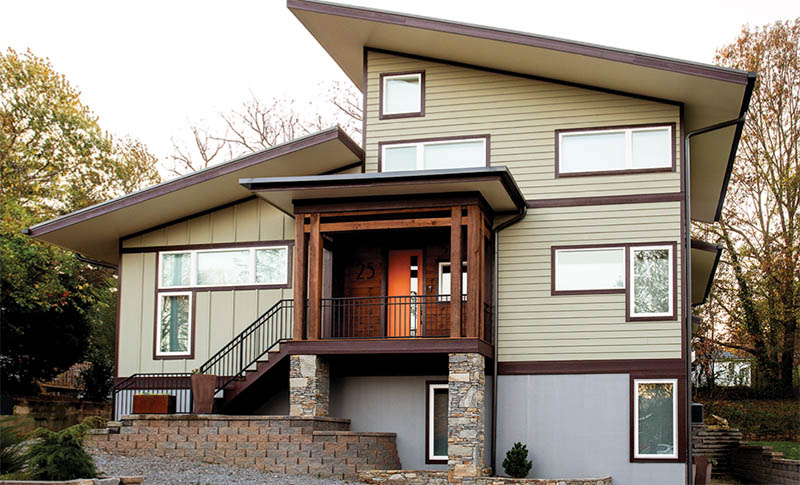 Many home buyers arrive at their new abode with a moving truck laden with rooms' worth of furniture and belongings collected over the years. For Nicole and Ryan Baker, transitioning into their new house in West Asheville was less like moving in and more like camping out.
The couple landed in the Blue Ridge Mountains from Anchorage, Alaska, with just their clothes and most personal possessions. "We had been very nomadic before moving here," Ryan says, explaining that the two had moved 11 times in the past five years. "We'd never been anywhere long enough to establish roots."
Nicole, a nurse practitioner in neurology, and Ryan, a certified registered nurse anesthetist, both found jobs at Mission Health. Originally from Tennessee, they found Asheville was a convenient location for visiting family in South Carolina and Alabama, and it also met their desire for outdoor recreation spaces.
When they won a bidding war for a modern, green-built house by Sure Foot Builders and became homeowners for the first time, they made a sparse start with just a mattress, couch, and television. For the first month, their lounge consisted of camping mats and sleeping bags on the floor. Their pups, Cooper and Augie, didn't mind the setup a bit.
"Our dogs really loved it because it was unlimited cuddles," Ryan says with a laugh. Nicole jokes that her husband would have 500 dogs if he had his way.
Furnishing a nearly empty four-bedroom, 3,100-square-foot house is an undertaking with a dizzying array of possibilities. To transform the house's vibe from indoor campout to welcoming home, their realtor connected them with Courtney Hinton of Hearth and Home Interiors. Nicole told her: "We have a whole house for you to design; go for it."
Hinton happily took the lead in the creative collaboration. She started with items the couple most needed to be comfortable, including a proper bed. But rather than selecting all new furniture as quickly as possible to fill the space, she took a slower, budget-wise approach.
"People don't really understand how expensive it is to furnish a home," Hinton explains. "On HGTV everything is magically furnished at the end of the show. There is a big misconception of how much things cost."
All the more reason to begin designing around a meaningful piece the couple had recently bought in their new hometown. Nicole and Ryan saw Benjamin Walls' photography on display at the French Broad Chocolate Lounge and were captivated by his work. After visiting his gallery, they selected a dramatic black and white image of the snow-capped peaks of the Grand Tetons. It reminded them of the Alaskan landscape and their 15-day drive to their new city in the Lower 48. Along the way, they stopped to see the Tetons, but the roads were impassable. "I never got to see them. Now I can look at them every day," Ryan says.
The photograph also reflects Nicole's love for a black and white palette. "That image conjured up the living room décor, and gave me inspiration for the whole house," Hinton says.
The balance between light and dark accents in the living room is struck with a warm-brown leather sofa, wood-framed mid-century style chair, and brindle and white cowhide rug. The open floor plan includes the dining room, where a weathered table is paired with white mid-century molded chairs and a rustic bench. Accents of gold in the fixtures and furnishings add polish to the airy space.
"Courtney did a good job of including us in every design decision. We got to be a part of it, but it wasn't overwhelming," says Nicole.
In the master bedroom, Hinton created a cozy nest for the couple, a serene and soothing retreat awash in creams and white. Just as in the main living area, elements of shine catch the eye—gold bedside sconces, a mirrored side table, and the Lucite legs of an upholstered bench. Uniformly framed black and white photographs of the Bakers, including wedding pictures, create a joyful gallery wall.
"The biggest thing that made it feel like us, was when we started hanging things on the wall—personal photos, mirrors," Nicole says. "It went from being a house to becoming a home."
Nicole had high hopes for the mezzanine overlooking the living and dining areas, and Hinton skillfully executed the tricky request for a multifunctional room for reading, yoga, watching television, and work. "It's my escape area," Nicole says of the wood- and white-themed space.
Color comes into play in the guest bedroom, namely blue in the art, rug, and a dresser passed down from Nicole's great-grandparents. The piece had seen better days, but Hinton gave it a professional paint job and added sleek gold hardware to help it fit into the modern aesthetic.
"I love repurposing things, and I love the sentiment of having family heirlooms in the house," says Hinton, who got her start in the design world with her own antiques business.
If Nicole's zen spot is the mezzanine, Ryan's is the basement, where he created his own dive bar. With charcoal gray walls and a black ceiling, it's unlike any other room in the house. Hanging vintage wood crates display mementos and memorabilia, including baseballs, trophies, and books; there are deer mounts and old family photos. The dogs are captured in gold-framed faux oil paintings that portray Cooper in a smoking jacket and Augie as a poet in 1500s garb. Their new puppy, Buddy, is an astronaut.
The custom bar by Harmony Interiors features an epoxy surface that holds coasters the couple had collected. Ryan recalls the two dashing into pubs in Ireland just to nab the keepsakes.
"You can't go down there and not have a good time," he says of the space.
Even with a bar of their own, they love exploring the wealth of restaurants and watering holes along nearby Haywood Road. They can easily walk to Zia Taqueria for blended margaritas and tacos. They're so close to popular Sunny Point Café they can add their names to the waiting list, pop back home for a mimosa, and head back in plenty of time to claim their table.
And after every adventure in their new town, they finally have a place to call their very own.
Hinton's design tips for first-time homeowners:
• Be patient; don't be in a rush. Don't buy things you don't need or love.
• Think in percentages: a percentage of you, a percentage of the bones and style of your house, and then a percentage of space you leave open for future treasures collected as time passes.
• Buy furniture in person. It's really important to sit on a piece of furniture, touch it, and feel it.
• If you're stuck creatively, pick one thing you're head over heels in love with and use it as inspiration to get started.
RESOURCES
Sure Foot Builders
(828) 242-0925
surefootbuilders.com
Courtney Hinton
Hearth & Home Interiors
(215) 595-4768
hearthandhomeinteriors.co
Benjamin Walls Fine Art Gallery
38 Broadway St., Asheville & Bristol, Virginia
(877) 989-2557
benjaminwalls.com
Harmony Interiors
(828) 250-9800
harmonyinteriors.com
Local Sources:
Antique Tobacco Barn
Dwellings
Four Corners
Mobilia
Sunnyside Trading Co.