City Planter
City Planter:
Bill Whipple envisions Asheville with ample fruits and berries to feed us all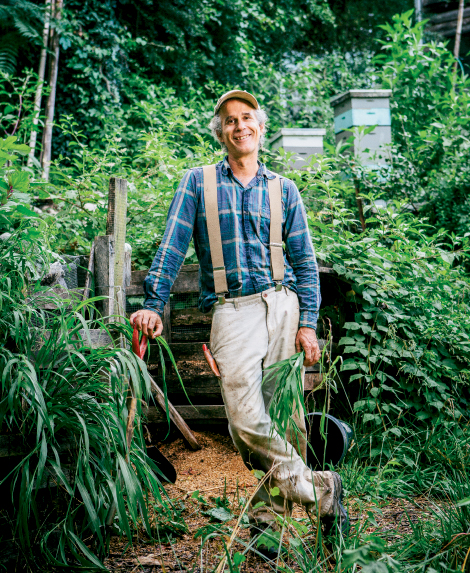 Different men have different opinions; some prefer apples, some onions, as the old saying goes, but if you're Bill Whipple, you prefer pears.
Owner of Barkslip's Micro-Nursery at Green Hill Urban Farm in West Asheville, he began a career in the fruit industry picking apples in Washington state, working harvests off and on from the time he was 18. In 1983, with five seasons of apple picking behind him, and the discovery that pears brought more money by the box, Whipple settled in West Virginia, planting two acres of pears. Twenty-six years later, he spends half the year in West Virginia, and the other half in Asheville keeping busy planting and tending community spaces.
There's a reason pears are so profitable. A pear tree takes eight to 12 years to bear fruit, while some dwarfed apple trees yield fruit within a few growing seasons. Western North Carolina is known for its apple orchards, but pear production is absent. Fire blight, a bacterial disease, deters some growers, but Whipple insists the problem is manageable. Simple solutions such as proper site placement, particularly atop hills, purchasing the right variety for the location, and pruning are key.
Whipple is growing 40 varieties of heirloom pears, breeding them, and creating new varieties. "The most exciting thing for me," he says, "is in the breeding, coming up with new varieties that are adaptable to the local area and extending the season of the fruit, creating more food security and interesting cultivars."
Through classes and seminars, including the seventh annual Fruit School he'll lead this month, he hopes to inspire would-be growers in the mountains. Using the alias Professor T. Bud Barkslip, which refers to a grafting technique, he teaches grafting, pruning, and propagating techniques.
But his affinity for pear trees is just a piece of his vision. The larger picture is to populate parks, neighborhoods, and community gardens in Asheville with plants that satisfy the city's food needs. "For me, the city is my farm," Whipple says.
One of his first projects, with the help of others, was to rehab George Washington Carver Edible Garden on the grounds of Stephens Lee Recreation Center, planting muscadines, figs, blueberries, and a nectar garden for pollinators.
Four years ago, he initiated the Buncombe Fruit and Nut Club, a group of folks out to learn about urban planting. At Magnolia Park, the members planted serviceberry and paw-paw trees, mulberry, and kiwis in collaboration with Asheville GreenWorks, a nonprofit dedicated to keeping the city green through plantings and clean-up initiatives.
The biggest lesson he hopes others will take away is, if you nurture trees, they'll return the favor. "Plants want us to take care of them," Whipple says. "They like us to prune and pick them."
The Fruit Growers Schools starts March 16. For details, visit www.barkslip.com. Whipple's trees are sold at Useful Plant Nursery in Black Mountain.
Planting Pears:
Pear trees can thrive in WNC. For best growth, plant in a high spot that gets five hours of direct sunlight. A north- or east-facing location where plants bloom a little later in the season is best suited to protect against late spring frosts. Pear trees require good air circulation to combat diseases and pests, so keep the tree pruned to a tall, conical shape.