Century Club
Century Club:
Built on 100 years of history and small town charm, West Jefferson celebrates a major milestone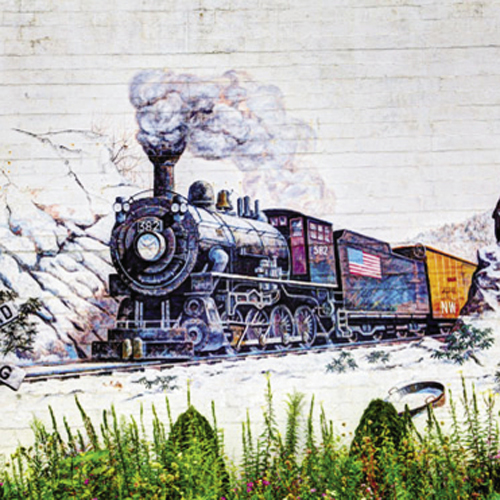 From a bustling whistle stop to a growing tourist destination, West Jefferson has much to be proud of as it celebrates its 100th birthday this year. Chartered on February 9, 1915, the town got its start as a major sojourn along the Norfolk and Western Railroad, known as the Virginia Creeper. Now listed on the National Register of Historic Places and boasting a colorful downtown full of galleries and public art, restaurants, and the Ashe County Cheese factory, this High Country haven has a slew of celebratory events planned for its centennial year.
 
"We've worked really hard to partner with local organizations to sponsor centennial events so it becomes a community celebration," says Lynn Rees-Jones, coordinator of the festivities. The Ashe Arts Center will kick off the year with an exhibition of paintings and photographs that showcase West Jefferson's past, present, and future, January 7-February 13. The town birthday party February 9 spotlights more local history with the debut of the History of West Jefferson, a locally produced film, and the release of a centennial publication.
 
Rees-Jones hopes the summertime homecoming, July 31-August 2, featuring a West Jefferson school reunion and community picnic, will entice natives who have moved away to return for a visit. A juried town photography competition will set the tone for the fall, along with architectural tours of historic buildings, a community checkers tournament, and even a beard and mustache competition. A centennial book club, genealogy workshops, and children's programs led by the library run throughout the year. 
 
Those who can't attend the festivities can still purchase a piece of the town's history, including centennial calendars, circa-1917 bricks from The Old Hotel, and commemorative aluminum quilt squares.
 
"I can remember seeing all the old wooden buildings growing up, when the town was first created," says 83-year-old town Mayor Dale Baldwin. "West Jefferson is diversifying more and has come a long way in the last 100 years."   
Centennial Celebration
Find more on the town's history and planned celebrations at www.westjefferson100.com.