Castle in the Sky
Castle in the Sky:
Overlook, aka Seely's Castle, has towered over Asheville for almost a century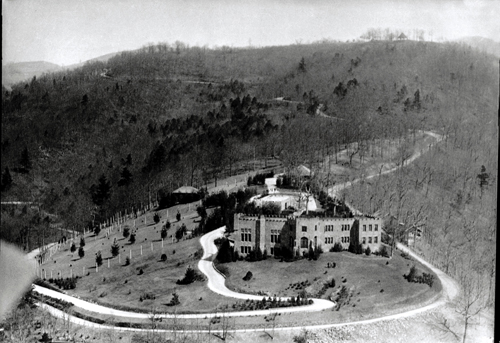 As the old saying goes, "A man's home is his castle." Fred Seely's certainly was.
In 1913, Seely completed the biggest endeavor of his life: the construction of Asheville's famed Grove Park Inn, which his father-in-law, pharmaceutical magnate E.W. Grove, had tasked him with building. The following year, Seely broke ground on another remarkable stone structure—a castle that would serve first as his family's home and later fulfill a variety of unexpected uses.

Then in his early 40s, Seely, a New Jersey native, had already had a momentous career as an architect, businessman, chemist, hotelier, and newspaper editor. In gratitude for his work on the Grove Park Inn, Grove gave Seely a 29-acre tract on the crest of nearby Sunset Mountain—the site of a former casino and picnicking spot that featured commanding views in several directions.

Seely, an Anglophile who'd rubbed shoulders with northern blue bloods for much of his life, set out to build a home as spectacular as the inn he'd just completed. He crafted a design for a castle in the English Gothic style, one loosely inspired by a London-area monastery that Seely fancied, and gathered granite from the same local quarries that supplied the Grove Park Inn's hulking stones.

The 20,000-square-foot castle, which Seely christened Overlook, took a decade to complete, though he, his wife, and five children moved in by about 1916, when it was still a work-in-progress. Once completed, it was a mountain-area marvel, rivaled only by the Biltmore House for its extravagance. A huge structure with multiple wings, towers, and parapets, its windows were filled with stained glass and its great rooms with massive fireplaces. One of the fireplaces was laced with European history, including stones from the Tower of London and Blarney Castle. The early electrical work was designed by no less than Thomas Edison. The grounds were sculpted with equal fastidiousness, highlighted by a fishpond, fountains, a deer park, rose garden, greenhouse, and manicured drives and courtyards.

Overlook quickly drew a crowd befitting its grandeur. In addition to much of Asheville's 1920s-era high society, five U.S. presidents visited, including Coolidge, Harding, Hoover, Franklin Roosevelt, and Wilson. Harding even took his cabinet there for a heated retreat during the Teapot Dome Scandal. Titans of industry, including Edison, Harvey Firestone, and Henry Ford were also hosted.

From his castle home, Seely remained an industrious mover and shaker until his death in 1942. His widow, Evelyn Grove Seely, then decamped to the Battery Park Hotel in downtown Asheville. In 1949, she sold Overlook to Asheville-Biltmore College, predecessor to the University of North Carolina at Asheville, for a mere $125,000. She donated $50,000 of that sum to assist the purchase.

So began the castle's second act. As noted in a printed program  from when the college was dedicated, local undergrads would now study in a "setting of great natural beauty," inside the newly renamed Seely Hall. The extraordinary situation, which took the notion of higher learning to a lofty new level, lasted until 1961, when the college outgrew the locale and moved to its present campus in north Asheville.

A development company purchased the castle, though it languished for the next four years. In 1965, Jerry Sternberg, a local businessman and raconteur with deep roots in the community, purchased Overlook for just $40,000 and moved in with his family. The castle was slipping into a state of dilapidation, but the Sternbergs spiffed it back up and let the good times roll in regal fashion.

In a rollicking series of columns that ran more recently in Asheville's Mountain Xpress newspaper, Sternberg detailed his family's memorable decade as residents of a mountain castle. "Everybody dreams of being king for a day, but I became a king for several years," he wrote. "When I announced to my family that this would be our new home, my children were thrilled. My wife was much more skeptical until I showed her the nearly 1,000-square-foot room next to the master bedroom that she could use as her closet."

Throughout the family's stay, the roof leaked, and it was mighty hard to heat the place. But the Sternbergs opened their home for many grand gatherings, including one that featured a visit from Yitzhak Rabin, then an Israeli general and later the country's prime minister.

In 1976, the Sternbergs donated the castle to a religious group, and Overlook Christian Ministries was born. For several years, an evangelical preacher and his family lived in the castle, and in 1980 they helped add the structure to the National Register of Historic Places.

Overlook was back on the market in 1983, and was purchased by Loren Wells, CEO of the Hendersonville-based clothing retailer Bon Worth, and his wife, Keela. The couple was dismayed to find the property beset by trespassers and vandals, a place where local teenagers went to make whoopie and mayhem. So they installed fences and other security measures, and for the past 30 years, the castle has been shrouded by an element of mystery. (Loren has not responded to WNC magazine's requests for interviews.)

Early on, the couple secured a Local Landmark status for the property, which provided tax breaks in exchange for a promise not to significantly alter the structure. Jack Thomson, executive director of the Preservation Society of Asheville & Buncombe County, says that "we recognize it as a significant historic site." The current owners, he adds, may put a premium on the privacy of the place, but they "clearly want to be good stewards of it."