Campus Collection
Campus Collection:
An outdoor sculpture exhibit spreads art across WCU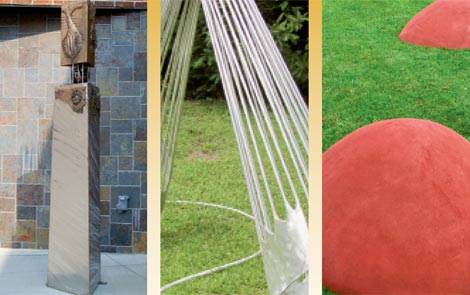 When western carolina University's Fine and Performing Arts Center opened five years ago, the 1,000-seat performance hall, art museum, and studio classrooms heralded a new wave of art appreciation on campus. Broadway musicals, dance, drama, and student productions have graced the stage, and the museum's collection and exhibits are first-rate. And now, the next step of a master plan for public art is taking root outside the center with an outdoor sculpture exhibit.
"In celebration of the center's fifth year, we wanted to provide the opportunity for students to directly engage with unique works of art, not just at the center, but on campus as well," says Martin DeWitt, founding director of WCU's Fine Art Museum. The exhibit features pieces by five Southeastern sculptors. From Deborah LaGrasse's symbols of human existence and identity to Robert Winkler's large-scale works that seem to defy gravity, students and visitors will have one year to enjoy, ponder, and interpret the sculptures.
Sight & Sound
S Wonderful, a musical revue
celebrating George and Ira Gershwin, follows an October 22 reception for the sculpture exhibit. www.wcu.edu/fapac