Camp Tails
Camp Tails:
Thanks to a new scholarship, shelter dogs can enjoy a weekend of training and off-leash fun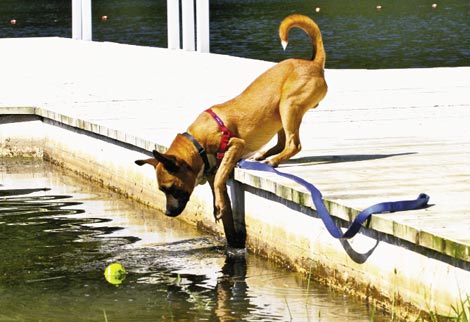 You'd expect a child to return from summer camp bubbling over with stories of how they hiked, swam, canoed, played games, and won a talent contest. But at Camp Unleashed in Hendersonville, the rambunctious crowd taking part in these and other fun learning activities is quite a different breed. In May and September, as many as 50 lucky dogs and their human companions can take part in this ultimate free-range, weekend experience. Beginning last September, one of those pooches was a special guest.
Rascal, a floppy-eared pup from the Asheville Humane Society, enjoyed four days of training and adventure as the first recipient of a Camp Unleashed scholarship. He was treated to a doggie massage, a relaxing canoe trip, learned how to swim, and was a natural at fly ball agility training. "It's such a nice break for a dog to go from a shelter environment to a fun-filled adventure where it's all about them," says Jenny White, the volunteer who accompanied Rascal.
Rascal also learned skills to increase his chances of adoption. "The scholarship honors all shelter dogs, volunteers, and workers, and hopefully helps find a home for at least one deserving dog," notes camp Director Kay Loveland. It worked for Rascal, who found a loving family.
This month, one lucky canine from Brother Wolf Animal Rescue will receive the scholarship. Prior to camp, the chosen dog must work with a shelter volunteer to learn basic skills such as coming when called and socializing with others. At camp, he or she will also learn patience, sharing, and agility, all traits that will serve the dog well when adoption day arrives.