Call of the Wild
Call of the Wild:
Get into a good rut with the inaugural Smoky Mountain Elk Fest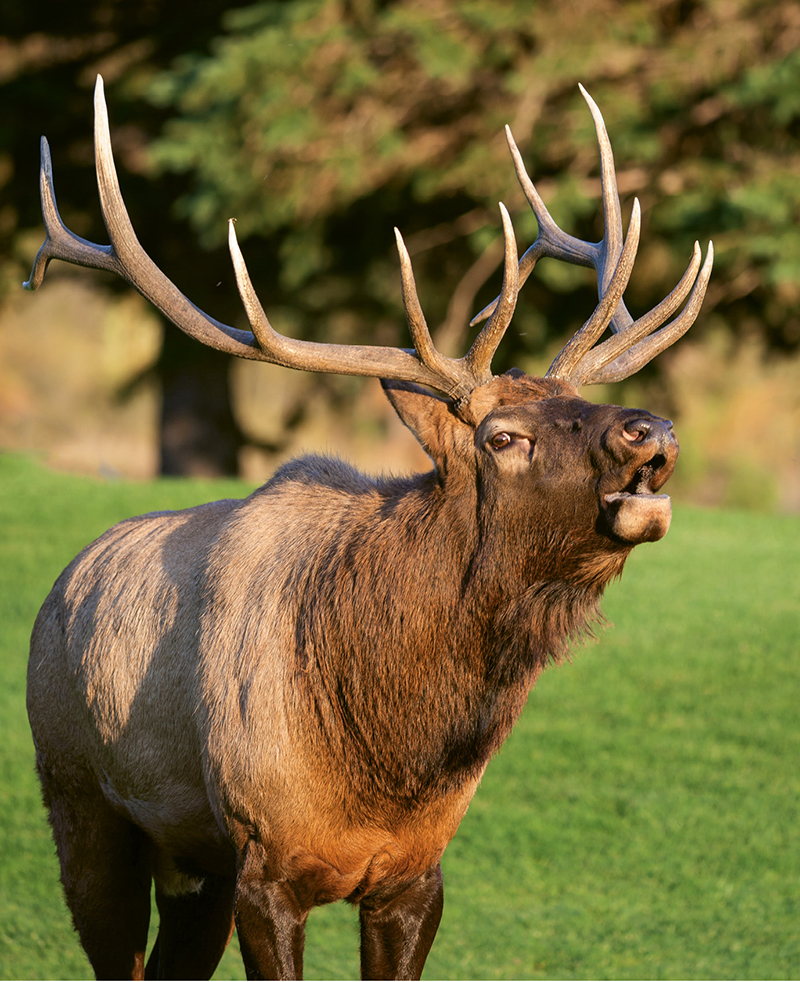 Pet Sounds - Part of elk's ritual mating behaviors, the male's distinctive bugle calls exhibit dominance. 
In the Cataloochee Valley, love is in the air. It's rutting season for elk, and the boys are bugling to attract females to their herds.
Widening the elks' circle of admirers is the inaugural Smoky Mountain Elk Fest, held at the Maggie Valley Festival Grounds, which, in September, will celebrate the herd that has tripled since being reintroduced to the valley nearly two decades ago. A portion of the proceeds will go toward creating and maintaining elk habitat, in part to keep the large, beautiful animals out of farmers' fields.
Elk used to roam throughout Western North Carolina until hunting and human encroachment wiped them out in the late 1700s. In 2001 and 2002, Great Smoky Mountains National Park and the Rocky Mountain Elk Foundation reintroduced a herd of 52 elk into the Cataloochee Valley. Now, more than 150 of the majestic animals wander through the valley and other parts of the park.
Free Range - In Cataloochee Valley, the reintroduced elk population roams unrestricted.
When the rut is on, male elk (or "bulls") emit a sound "unlike anything you've ever heard before," says Lynn Collins, executive director of the Haywood County Tourism Development Authority and an Elk Fest organizer. Rutting season in the park "is pretty vocal," agrees Kim DeLozier, conservation program manager for the Rocky Mountain Elk Foundation. "It kind of mesmerizes people. There are a lot of conflicts between the older and younger bulls. People love to see large wild animals, and elk are pretty charismatic."
September isn't just a great time to spot the elk during mating season, it's a time to celebrate them with this event. The festival will feature dancing and storytelling by the Eastern Band of Cherokee Indians and demonstrations by Haywood Community College's timbersports team. Taste of the Wild, a culinary component on September 13, will give diners a chance to sample wild game. There will be tours of elk habitat in the nearby Silver Game Land and guided hikes in Cataloochee Valley. Established and burgeoning country music artists, including Jordan Brooker, Andy Griggs, and Kaitlyn Baker, will perform, and the fest will have food vendors and wildlife art—and even a class in distilling whiskey. 
Country artist Andy Griggs
Wildlife Viewing 101
The best place to see elk is in Cataloochee, but you can also see them in Maggie Valley and Cherokee. The best times for viewing are sunrise and sunset. Stay back at least 150 feet, and don't feed or interact with the elk in any way.
Smoky Mountain Elk Festival
September 13 & 14
Maggie Valley Festival Grounds
3374 Soco Rd., Maggie Valley
Taste of the Wild $40/Fest $5
(800) 334-9036
smokymtnelkfest.com