Built to Last
Built to Last:
At Hart Square in Catawba County, a man with a passion for historic structures keeps the past alive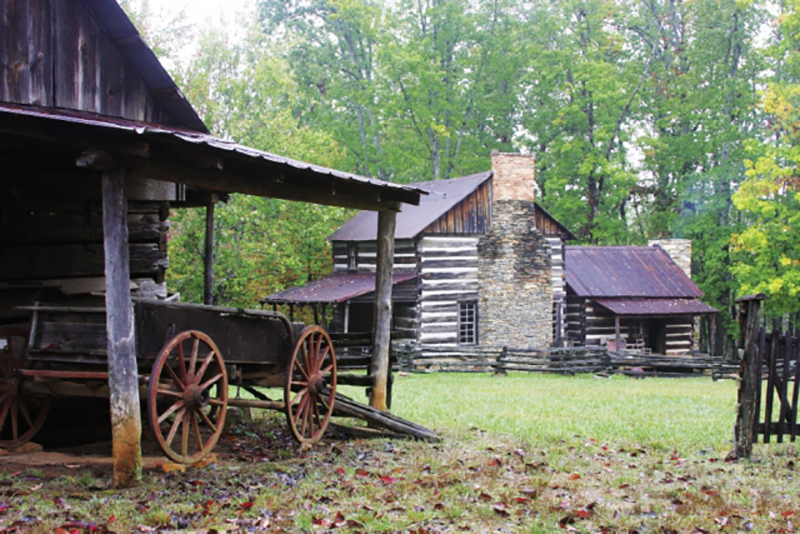 "If you build it, they will come" could serve as the official slogan of Hart Square, an unparalleled living history village in the foothills of Catawba County. What began four decades ago as a pet project for a solitary man is now a major annual attraction: Every October, Hart Square hosts some 3,500 people at a festival that's a veritable exercise in time travel.
Since 1973, Bob Hart, now a retired Hickory physician, has been collecting cabins and other old wood buildings from farms, ridges, and hollers all across Western North Carolina and the Piedmont. He's paid nominal sums for some of them and been given many for free. "I can take a small one down in four or five hours, but it takes about six months to put one back together," Bob says. It's a ritual he's repeated 101 times, reflecting the number of carefully preserved structures now packed into Hart Square's 200 acres.

More than cabin fever
Bob started by acquiring a few cabins, but over the years, his hobby turned into an obsession, and his inventory grew to include barns, chapels, gristmills, country stores, smoke houses, taverns, a print shop, a jail and stockade, and many more varieties of antique buildings. They span more than a century, with the oldest built in the 1760s and the newest built in the 1870s.
Once he got a reputation for collecting them, Bob started getting tips about more abandoned ones that might be up for grabs. Others, he found from the air; an amateur pilot, Bob spent decades flying scouting missions from a landing strip at Hart Square.
After he found and relocated the structures, his work had only just begun. In each building, he's labored to flesh out the insides with period furnishings and relics—detailed touches that give his village an extra air of authenticity.
It takes a village
Bob stresses that he hasn't done it on his own—far from it. He's had a lot of help from friends and family, including his granddaughter Rebecca Hart, who grew up playing in the village on weekends and is now executive director of the Hart Square Foundation, a nonprofit that manages programs at the village, from the annual festival to visits from students to the occasional wedding. "It's been a family treasure so far, but we want to make it more of a state treasure," she says.
At the annual festival/open house, Hart Square's main event, the village springs vividly to life, as a cast of more than 200 volunteers in traditional attire demonstrate the practical arts of centuries past. There are weavers, open-hearth cookers, carpenters and blacksmiths, and makers of everything from brooms and shoes to tools and moonshine. On several porches, old-time musicians fill the air with tunes from long ago, and visitors scurry around the place, trying to take it all in in one day.
"We've got the finest artisans that you'll find anywhere in the Southeast," Bob says. "How many people do you know who can work cotton gin mules, or fix a cider press, or make pewter spoons?"
Indeed, Hart Square is more than just a quaint collection of nostalgic structures: It's an outdoor museum that documents a way of life and preserves long-lost skills. At last year's event, Jola Sobanski, a volunteer who's participated for all 29 years, demonstrated candle-making methods in the shade of a tree by one of Hart Square's two lakes, using techniques handed down by generations of her family.
Nearby, Howard Wehunt, an 89-year-old volunteer, operated a century-old printing press in one of the sheds. He learned to do letterpress on a similar machine when he was 12, he explained, because most of the working men in his town were sent off to fight in World War II. "And think about this," he said: "Do you think the printer you use at home will still be working in 100 years?"
Forging a future
Since 1986, the Harts have invited the public to Hart Square on the fourth Saturday in October. The event goes on rain or shine, Bob says, "but in all the times we've done it, it hasn't rained even once," he adds with a chuckle.
The festival is a banner affair, but the Harts hope to add new uses to their village that extend beyond the one-day experience. And while Hart Square is seemingly all about the past, the Hart Square Foundation is increasingly focused on what's to come. Soon, the Harts will transfer ownership of the property from the family to the foundation, which has plans to set up a year-round educational facility. The blueprints are complete, and the foundation hopes to break ground in 2016.
"The goal is to have kids come out to experience the village, but then also have more intimate, hands-on activities in new classrooms," says Rebecca. Presently, many local students take field trips to the Biltmore House, she notes—a riveting experience to be sure, but one that highlights the history of WNC's upper echelon. "Hart Square is different," she says. "Here, we show how the average person of the time, those with little means, would have lived. There's still so much to learn about the ways they got by."          
See for Yourself
Hart Square Festival
October 24, 10 a.m. to 5 p.m.
Tickets are $40 (free for children five and under) and go on sale at 9 a.m. on October 1. They can be purchased in person at the Catawba County Museum of History (30 N. College Avenue, Newton) or by calling the museum at (828) 465-0383. Note: The event sells out quickly. For more information, visit www.hartsquare.com.