Boom, Boom!
Boom, Boom!:
Pisgah Thunder takes the dance floor by storm for a great cause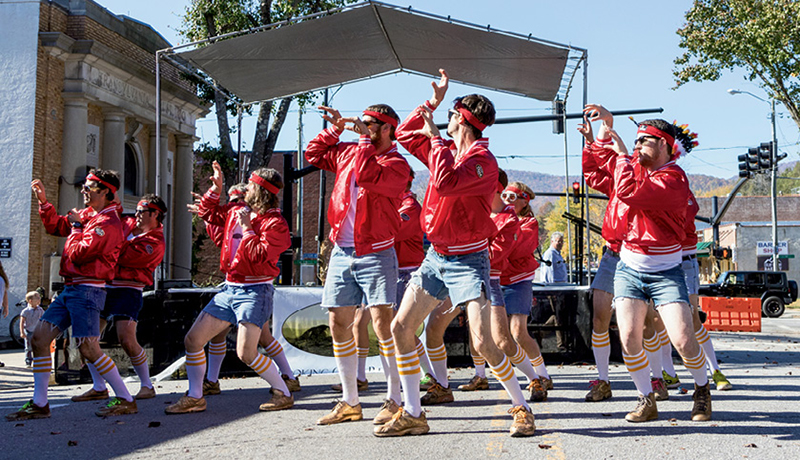 When it comes to the genesis of Pisgah Thunder, an all-male, "semi-synchronized" dance troupe, the details are murky. But according to group leader Jason Shepherd, before they became stars of the annual Brevard Holiday Parade, wowing crowds with their red satin baseball jackets, tube socks, cutoff jeans, and almost-legit choreography, legend has it the guys were split into two rival break dancing groups. But the street fights got old, and a peace treaty was forged atop Black Balsam, at the exact moment lightning struck.
In reality, the group found a purpose, staging two fund-raisers a year for the Cindy Platt Boys and Girls Club of Transylvania County, a nonprofit that helps hundreds of children through after-school activities that nurture academic success, healthy lifestyles, and good character and citizenship. The next main event, Thunderween on October 27, promises some major moves.
Fabricated origin story aside, what Pisgah Thunder enjoys most is "helping out the kids of the county," Shepherd says. The bonus: "It's a great unifier for random people who would never hang out together. There is a big sense of camaraderie. It's a fraternity of men looking for an excuse to get out of the house on a Wednesday night and dance together like we were born to do."
Thunderween
October 27, 7:30 p.m.
Brevard Lumberyard,
200 King St., Brevard, $30
Pisgah Thunder on Facebook
RESOURCES:
Photograph courtesy of Pisgah Thunder