Boogerman Trail
Boogerman Trail:
Boogerman Trail, Great Smoky Mountains National Park, Round-trip: 7.4 Miles, Difficulty: moderate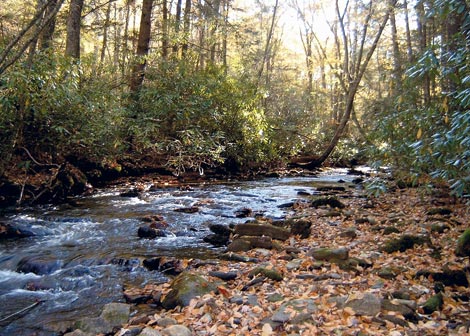 Watch your step; that's sensible trail advice. Although springtime on the Boogerman Trail loop in Great Smoky Mountains National Park presents plenty of temptations to provoke a misstep. Urging your eyes to the sky are masts of tulip poplars and other hulking hardwoods. The trail is a tribute to "Booger" Palmer, a homesteader who resisted fistfuls of cash from timber companies, thus saving the trees from the saw at the turn of the 20th century.

Spring's onset frames the contrast of new and old along the trek. Nutrient-rich soil of the old-growth forest supports a dazzling palette of wildflowers, including violets and rare orchids. At 2.3 miles, look for rusting implements of Palmer's former homestead. Around the four-mile mark, a handsome stone wall shrouded in ferns and moss stands as a reminder of a bygone residence.

From Cataloochee Road, follow Caldwell Fork Trail 0.8 miles, then veer left at the Boogerman trailhead. After 3.8 miles, make a right to regain Caldwell Fork Trail and return 2.8 miles downhill to the road.
 
Navigate: Take U.S. 276 north from Maggie Valley. In about six miles, turn left on Cove Creek Road, which turns to gravel. After 10.5 miles, park on the left side of the road at the Caldwell Fork trailhead.