A Bluegrass Icon
A Bluegrass Icon:
The life and legacy of celebrated bluegrass musician Earl Scruggs gets a standing ovation in his native Shelby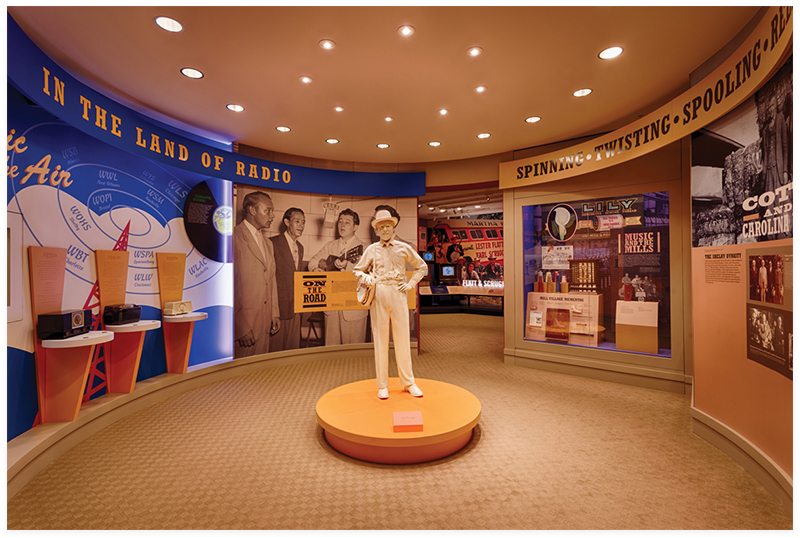 A decade after Earl Scruggs passed away in 2012, his namesake music festival debuted last year and returned to the Tryon International Equestrian Center for year two over Labor Day weekend, Friday September 1 through 3.
The event was dreamed up, appropriately, by the folks at WNCW public radio, a nationally-known local roots and mountain music FM radio station (and so much more) based at Isothermal Community College in Spindale. The festival is a partnership between the Earl Scruggs Center in Shelby (one of the country's top roots music museums), WNCW, and Tryon International Equestrian Center.
Housed in Shelby's classic 1907 courthouse, the museum, performance center and educational spaces revel in Scruggs's renown for perfecting the "Scruggs Style" three-finger banjo playing technique known globally as a hallmark of bluegrass. The center also celebrates the musical heritage, history, and culture of the American South, along with the remarkable story of Cleveland County.
The legendary Scruggs was invited to join Bill Monroe and the Blue Grass Boys in 1945, and on December 8, "he took the stage with the band at the Grand Ole Opry and that's when they say bluegrass was born," says Scruggs Center executive director Mary Beth Martin. Scruggs's lightning-fast 1949 version of, "Foggy Mountain Breakdown," with partners Lester Flatt and the Foggy Mountain Boys, towers near the top of the bluegrass music pantheon.
Flatt and Scruggs's performance of the "Ballad of Jed Clampett,'' for the 1962 TV comedy The Beverly Hillbillies, "probably their most famous song . . . put their music in homes all across the country," Martin says. At Scruggs's wife's urging, the song was released as a single and spent twenty weeks on the Billboard Country singles charts, three weeks at number one, the first bluegrass song to do so. In 1967, Flatt and Scruggs's "Foggy Mountain Breakdown'' went global as an oft-heard song in the soundtrack for the breakout movie Bonnie and Clyde. Martin concludes that visibility, "probably made Flatt and Scruggs the most famous bluegrass band of all time."
Exhibits at the Scruggs Center explore continuity and change throughout the region.
The song is such a virtuoso performance and has such staying power that it won a Best Country Performance Grammy for Flatt and Scruggs in 1969, and another Grammy in 2002 when Scruggs recorded it again with an all-star line-up that included Steve Martin and Leon Russell. The Library of Congress called it a, "rare instance of a performer's winning music's top honor twice for the same tune." Banjo virtuoso Bela Fleck joined Scruggs on "Foggy Mountain Breakdown" for the 1993 film adaptation of The Beverly Hillbillies.
The Scruggs Center got its start in 2014 as an effort to spark tourism in Cleveland County. Based on the legendary role of its native son in the birth of bluegrass, the center is a world class facility. The intriguing four-gallery collection of artifacts, film, and hands-on insightful displays from Scruggs's career showcase his saga, from World War II textile mill worker to internationally-known musician. Extensive exhibit interpretation includes Earl's banjo. There's an ongoing rotation of curated exhibits, and that's in addition to musical events, including shows in the courthouse venue and an outdoor "picking on the lawn" series. When you factor in the nearby Don Gibson Theater, a 1939, small town art deco movie house reborn as an intimate 400-seat music venue, Shelby's plan for stardom as a music destination is getting a standing ovation. There's a steady bill of national touring bands, including award-winning groups and up-and-comers from Austin, Nashville, New York and more.
The theater is named after another local legend, the prolific country music songwriter Don Gibson, creator of classics like the country and pop smash "Oh, Lonesome Me," Ray Charles's 1962 hit "I Can't Stop Loving You," the 1963 Patsy Cline crossover classic "Sweet Dreams," and many more, ushering Gibson into the Country Music and Nashville Songwriters Halls of Fame. Gibson had his own popular singles and albums but it almost seems that everybody who was anybody from the late 1950s to the '70s covered Gibson's work. Theater exhibits interpret his career.
Another Shelby art deco masterpiece, the 1936 Rogers Theater—designed by Metro-Goldwyn-Mayer studio's architect Charles C. Benson—is also undergoing historic preservation aimed at becoming a multifaceted downtown dining and social center with a wine, beer and bourbon bottle shop, rooftop bar, balcony and diverse other interior entertainment options. The evolving success of the upcoming Earl Scruggs Music Festival, "wouldn't be possible without the heavy lifting and investment of the Tryon International Equestrian Center," says WNCW Director of Programming and Operations Joe Kendrick. The center is a household name in the global realm of equestrian events and competition, but it's also a full scale resort with multiple stages and music venues. The event is hosted by Jerry Douglas and presents a bill of top-notch bluegrass bands, including Douglas's own band, The Earls of Leicester, among names like Del McCoury Band, John Stickley Trio, Emmylou Harris, Tony Trischka's Tribute to Earl, and another thirty bands.
Shelby honors its country legends like Scruggs and Don Gibson with a mural downtown (left). Gibson also has an intimate concert hall named for him (right).
There are also five free musical presentations on the Legends Workshop Stage that get to the heart of Bluegrass and Scruggs's style and significance. Daily experiences for attendees to consider range from horse jumping demonstrations to trail rides, yoga, pickleball clinics, open gym access, and a bluegrass brunch and gospel session Sunday morning.
Known for its stunning setting in the Blue Ridge foothills of Mill Spring, the Tryon International Equestrian Center offerings include a wide range of resort lodging (from single to multi-bedroom cabins, to a motel-style lodge and RV camping). Dining runs from casual to upscale, across country cuisines including Mexican, Italian, and sushi. There's a diner and general store and deli, and other options from barbecue to beyond. If you haven't encountered Shelby's music scene or Earl Scruggs before now, it's time to check them out.
Resources
Earl Scruggs Center
103 S. Lafayette St., Shelby
(704) 487-6233; earlscruggscenter.org
Clevland County CVB
Visit Cleveland County, 200 S Lafayette St., Shelby
(704) 487-8521; landofrhythm.com
Tryon International Equestian Center
25 International Blvd., Mill Spring
(828) 863-1000; resort.tryon.com